Now that the 2018 Breeders' Cup is behind us most casual horse bettors have moved on to other pursuits, but for those of us who like to play the ponies, we know that it's a year-round endeavor that has more than just 4 marquee events. So here are the best rebates being offered by online racebooks in the USA for November 2018 that will allow you to get your hands on some free cash. All of the websites below are currently offering sportsbook bonuses only so there are no special bonuses for racebook players – you can simply claim their standard one.
Starting off, we have the folks over at the GTbets Racebook offering a very meaty 15% rebate on all of your losses, with the bonus money being issued on the first of every month. For those unfamiliar with this newer website, they have a great betting interface, a huge horse wagering guide section, and even have 3D virtual horse racing for those who want nonstop action. You can spend the rebate on any of their Class A, B, or C tracks that are mostly in the United States, or any of the others located around the world, even in faraway lands like Australia.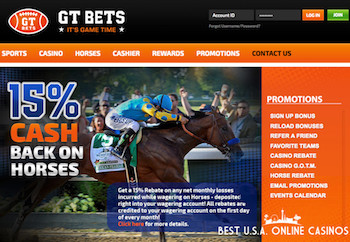 And speaking of horse tracks from around the world and nonstop action, you can bet 24 hours a day, 7 days a week at the BetDSI Racebook, who have been operating in America for many years. Their current horse rebate is 8% but it's issued on all of your wagers, not just loses, so depending on the type of player you are you might like that offer more than the 15% that GTbets will give you on all losses. However, to be fair, the 8% is only on exotic wagers and they give you 3% on straights, but there is zero rollover on the money so that has to be taken into consideration too.
Horse bettors who like more immediate satisfaction may want to opt for the BetOnline Racebook for U.S. players since they offer daily rebates of 7% on all wagers made on the internet. Well, except for wagers on NYRA tracks – those will only earn you a 4% rebate for some reason. Also, any wager that pays $2.20 or less for $2.00 do not quality for the loyalty program, nor obviously do any cancelled or scratched wagers. That aside, the cool thing about "BOL" is that you can place horse bets right from your phone thanks to their mobile betting app that anyone from coast to coast can easily install on an Android or iPhone – talk about "convenience"!
Not to mention, if you've never had an account with them before and sign up for a BetOnline Racebook account today they'll give you a free $25 bet and reimburse you if it loses. This is a great way to check them out risk-free so head on over and cash in before the promotion expires.