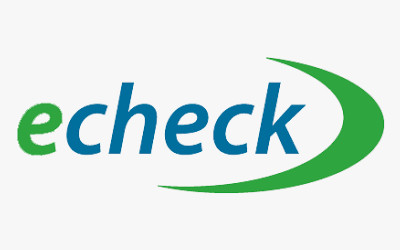 ***Updated: August 8, 2019***
When you see the option to deposit with an E-Check at an online casino, it's not very clear what they are referring to. However, if you had to guess you'd probably be right: it's an electronic check that comes directly out of your bank account that is sent to the betting website. Sometimes it can also be referred to in their cashier simply as ACH which stands for "Automated Clearing House" and is a virtual system to transfer funds between banks and 3rd party financial institutions.
It does not need to be documented on an actual piece of paper but it will use the exact same information that would be on any physical check that you'd write from your bank accounts. Therefore, in order to complete the process you will have to give the operator your routing and transit numbers. Also, make sure that you don't confuse this option with a bank wire, as that's a totally different thing that requires you to physically go into a branch and then provide much more information, including SWIFT codes and other details.
Some places will immediately make the funds available for wagering and then if the check doesn't clear they will simply penalize you by voiding all of your winnings and pending action. However, if you have a bad history with them they won't front you the money again until you've proven yourself to be trustworthy with multiple successful transactions. Obviously, honesty is always the best policy.
Gamble in the U.S. with E-Check
This process will already be very familiar to many American gamblers since it hasn't changed much in the last 20 years. You simply go into their cashier and click on "ACH" or "e-check" and fill out the required information, then enter the amount you'd like to deposit and then "confirm". If your account is in good standing the full balance will then immediately be available for use.
The fees for ACH are low when compared to those that you'll incur to use a credit card like VISA or American Express, however, this method is basically for those who want to transfer $200 or less because any more than that and it will start to get expensive. There shouldn't be any fees charged by the operator but always be sure to confirm the details first so you don't get any surprises.
Regarding withdrawals, sometimes they will only let you take out the exact amount that you originally sent them and you'll have to find another way to get out the rest. Usually this is done with cryptocurrency since it's the easiest thing to do (of course, if you would have just used crypto in the first place, you'd be able to get the entire sum immediately).
U.S. Online Casino E-Check Deposits
Anyone who has been betting on the internet for a while now will remember that E-Check deposits were originally referred to as "DBT", made famous by the wonderful people at Bodog (now called "Bovada") who wanted to revolutionize the overall gaming experience and allow U.S. players to easily move money around. It's interesting that another industry veteran, PokerStars, still refers to it by this name today. For anyone keeping score, the folks at Bovada are now calling it "Interac e-Transfer", so don't give it a second thought when you're in their cashier.
No matter what you call it, it's one of the easiest ways to fund your online gambling account, if you're happy with leaving a paper trail behind you, that is. Anyone who wants to stay anonymous should of course bet with Bitcoin because the entire process is totally private.
An important thing to note regarding this option is that since the balance sent isn't actually received by the casino for 7 days or more, you will be unable to request a payout until the transaction has "cleared" and been given final approval by your bank. This has led to many upset customers over the years who didn't know the rules going in, and ended up feeling like they were being cheated, however, this isn't the case at all and they simply have to confirm that everything cleared before they pay you.
Pros and Cons of Using E-Check at Online Casinos
There are many pros to using E-Check to deposit at an online casino, with the main strength being that it will be very familiar to those who don't like stepping out of their comfort zone. It's a time-tested method that has worked well for over 20 years, allowing those without a credit card to still be able to fund their accounts. It's also good for anyone who doesn't like dealing with 3rd party intermediaries like eWallets or Blockchain Wallets, and wants to deal directly with the operator.
The main con of using ACH is obvious: you have to give all of your personal information, including your bank details, which may make some players who value their privacy a little uncomfortable. Ultimately, betting websites can't really do anything with this information, it's just that it feels like you're divulging too much to them.
Another huge drawback to electronic checks is that based on today's standards, it takes a very long time to complete the process, with 7 to 10 business days being the standard timeframe. This means that if you choose to use ACH on a Sunday, book action for that night and win, you won't be able to withdraw anything for 14 to 20 business days since both the original transfer and the withdrawal will have to clear. Compare that to a method like Litecoin that would allow you to re-up your balance, bet, win, and get paid in the same day, and it's easy to see why many are moving on from the old school ways.
Also, if you mismanage your finances and spend the money in your bank account that was earmarked for the online casino, the deposit will obviously not clear and the operator will probably void all of your winning wagers for that period. This could obviously turn a huge payday into a massive nightmare. The NSF charges from your bank that will result from your error will be the final insult of the ordeal.
A final word of caution is that there are limitations to where you can use E-Checks and it can be hard to find a site who will accept them. However, our listings are updated regularly so you will easily be able to find someplace to accommodate you.