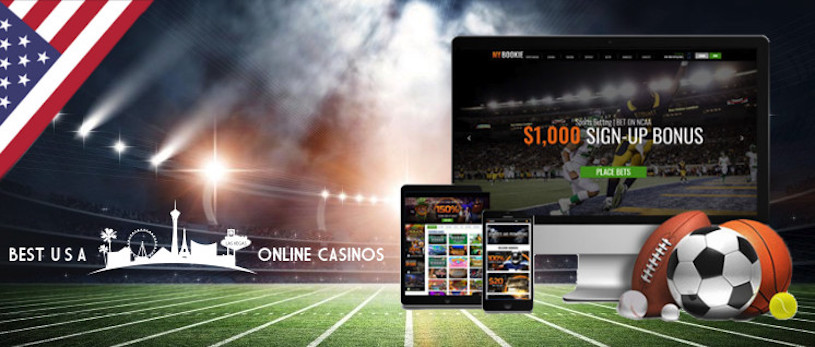 The thrill of betting on sports is one that's shared with millions of Americans around the country. Whether it's NFL football, NBA basketball, or exotic games from across the world, there's nothing quite like picking a side, getting your money down, and then winning cold, hard cash if you're right. However, the main issue in the U.S. has always been finding an online sportsbook who will accept your wager and then pay you out when you win.
Only a few short years ago, people were restricted to betting solely in Las Vegas or Atlantic City but the rise of the internet in the 1990s made gambling online much easier, and therefore, much more popular. It became a multi-billion dollar a year industry in the USA alone, with tons of operators accepting wagers in their virtual casinos, their doors open 24/7.
This quickly became a "new Wild West" of the internet with rogue casinos stealing people's money or refusing to pay them out when they won. Over time, these scam websites were identified, blacklisted, and eventually shut down, never to be heard from again. The good news is that once the dust had settled, Americans were left with a solid selection of trustworthy sportsbooks who they could count on to pay them when they won and now only the elite operations are still standing today.
Best USA Online Sportsbooks
You should always be careful when you bet on the internet because many gambling websites are located offshore so there's no official complaint process to go through if you have a problem. That's why it's important to only play at recommended books that are regulated through an official government body in a legal jurisdiction like Curacao, Panama, or Kahnawake. Then if there's ever an issue that you can't resolve with the operator itself, you have a clear process by which to seek retribution.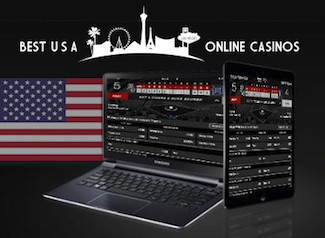 Some players argue that the best websites are the ones that have the most sportsbook promotions and bonuses throughout the year but there are many other factors to take into consideration. For example, customer service agents available 24 hours a day, 7 days a week is certainly nice to have, as well as the option to contact them via live chat and/or telephone and not just over email.
As always, one of the most important aspects to consider is the ease of moving money in and out of your account, how long the transactions take to complete, and how much in fees it's going to cost when it's all said and done. For the last 20 years, gamblers in the U.S. were forced to rely on credit cards for the vast majority of financial transactions to internet casinos, and pay all of the high fees that came with them. However, with the invention of cryptocurrencies players can now easily deposit at sportsbooks with Bitcoin and other Alt Coins, with the entire transaction being fast, easy, and very cheap. They are absolutely the best way to transfer funds on the internet.
Therefore, one of the most important criteria to look at when ranking operators is whether or not they have crypto as a banking option, and how many individual coins they accept in their cashier.
Sports Betting Online
Every single sportsbook online will allow you to bet on major events like the Super Bowl, NBA Finals, Stanley Cup Playoffs, and the World Series, but only the best ones will go the extra mile and offer niche sports that can sometimes be hard to find. Whether it's cricket, darts, snooker, Rugby Union, or handball, the selection of matches and leagues will differ from place to place.
There are tons of different wagering options available at every book and you'll be able to get down on anything that you can at brick and mortar casinos in Las Vegas like spreads, money lines, game totals (Over/Under), and a seemingly never-ending list of prop wagers.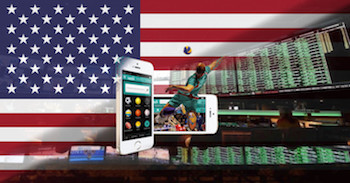 Since parlays are the most lucrative types of bets for a sportsbook, you'll be able to add as many wagers together as you want. Teasers are also quite popular as they allow you to "tease" the spread that the book has given a team and lean it more in your favor, and in return you'll receive a lower payout than what you would have received with a normal parlay.
In addition, you can also "buy points" in football and basketball games to give yourself an extra half point, with the cost being an increased bet amount to receive the better odds. This can be a slippery slope of chasing larger paydays so you need to constantly stay focused on your bankroll management.
The most important thing to remember is that the betting odds are always changing depending on the amount of wagers one side has because it's the bookmaker's job to balance the action. The bookies aren't betting against you, they're just trying to get an even amount of money on both sides of an outcome so they can enjoy their small piece of the pie for accepting the wager, which is known in the industry as "juice" or "vig", and then they get paid no matter how the game ends.
Live In Game Betting
The invention of the internet not only made online sportsbooks themselves possible, it also enabled them to offer live "In Game" betting on events. This is when the casino offers wagers on the next play in a live game, with the gambler having to predict the exact result. For example, the possibilities in football would be rush, pass, sack, touchdown, fumble, fumble returned for touchdown, etc. This obviously makes an NFL Monday Night Football game a little more exciting if it's a blowout by halftime.
You obviously have to be very quick to make these types of wagers since you usually only have a few seconds between plays, depending on the sport in question. Some experts are predicting a resurgence in MLB baseball now that there's legal sports betting in the USA because the time between pitches is so long it allows for more people to place bets on what will happen next.
Bet eSports Online
For years, betting websites ignored the rise of eSports and shrugged it off as "nerds watching nerds play video games", but they couldn't have been more wrong and the sport has really taken off. Tournaments involving DOTA, Leagues of Legends, and Counter Strike have exploded in popularity and experts now predict that more Americans will bet on eSports than the Super Bowl in just a few years.
Therefore, you can now find every major gaming tournament available for betting at all of the top-ranked sportsbooks, with odds on every notable player, team, and league. Whether it's the Dell Gaming Liga, Pro #1, United Masters League, or the Chongqing Major, you'll be able to bet by map or by outcome, with new types of wagering options being introduced all the time.
Everyone's taking eSports seriously now that these exciting contests have taken the world by storm.