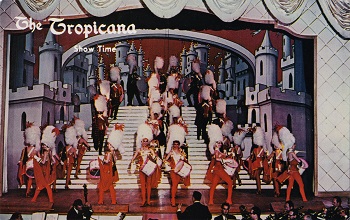 ***Updated: November 4, 2018***
In some ways casinos have the toughest job in the world. Not only are they in the business of sending most customers home poorer than when they arrived, but they also have to make sure they have some fun in the process. This means that their promotions can be the difference between happy customers and angry ones. Every operator has a prominent "Promotions" section in their lobby for visitors to check out what's going on, but these offers will always differ greatly depending on the website.
Some players don't really care about promos because they only stick to the same games and/or wager the same stakes every time they visit. This is absolutely fine for them but most people will want to keep things fresh with a slots tournament, a chip race, or play certain games to try to win extra cash and prizes. So for those people who like a little excitement in their lives, this gambling guide is for you.
U.S. Online Casino Promotions
Pretty much every online casino in the United States is going to offer you at least a welcome bonus and then some type of incentive to come back, however, what really sets them apart is their amount of actual promotions. You know – fun stuff like slots races, blackjack tournaments, and dream vacation giveaways. Shockingly, many places don't bother with these types of things and just stick to simple bonuses to try to keep players happy and engaged, which is why we've done the research to find the best places that offer cool promos.
Many U.S. players will argue that the best online casino promotions are the ones that give you the biggest bonuses, since they are what allows you to play for longer and make larger bets as you go. These types of promos will almost always be a percentage of the amount of your deposit so the more you put in, the more free money they'll give you. Check out all of their terms and conditions first to ensure that there's nothing that will surprise you later on.
The good news is that these days pretty much every operator has some form of tournament schedule that will give out extra prizes to those who end up at the top of the leaderboards, so you'll find a little bit of competitive action no matter where you go. However, some places like the MyBookie Casino seem to always be launching more new promos than the average website, and they're targeted at every type of player whether they like slot machines or bet on sports.
Free Play
Slot machines are the lifeblood of any operator's revenue stream so what better way to have players try new games than with free spins? As there isn't an abundance of reputable online casinos in the United States, free spin offers can vary greatly from website to website. You have to be very careful if you see an offer that's too good to be true because more often than not, that's exactly what it is – a rogue casino trying to suck you in with a "fairy tale" offer. A general rule to follow is: if they don't come recommended on leading industry watchdog websites like this one, don't even think about playing with them.
The equivalent of gratis spins at Las Vegas style gaming tables is a "free bet" or a "free chip", but these are usually reserved for players who spend most of their time with something like blackjack due to the huge difference in odds between the two. Operators obviously aren't eager to lure slots players away from the one-armed bandits because the House odds on them are much more favorable than the table games.
Money Back on Losses
This is a popular promotion that's exactly how it sounds: the casino will refund a portion of a player's gambling losses to make them feel better about the sad situation. It won't be a massive payback since many places have a maximum amount in the $20 to $30 range, depending on your amount of total play and/or your VIP level, if applicable. However, it's obviously better for players to get something back rather than just a door slamming on their backsides.
Most U.S. online racebooks will offer their players weekly rebates on all of their losses, or sometimes it will be a simple percentage of their total wagers, win or loss. These rebates can start at as low as 2% and go all the way up to 8% if you find a generous book that appreciates their customers.
New Games
The arrival of new games will usually be promoted by the giving out of free spins or chips to try them risk-free, so always make sure to keep an eye out for these because it's basically the equivalent of free money in your pocket. Of course, operators are most excited to introduce players to games that are friendlier to the house than to the gambler, but that's not always the case. Often times these are just exciting new releases that they want players to try because the better they are, the more fun players have, and then the better their overall experience will be.
Special Days
Promotions are sometimes used to stimulate action during slow times of the week like Tuesday or Wednesday nights. Savvy gamblers know that their bankrolls will be a little fatter by playing on special days thanks to the "time bonuses" they can receive. Most casinos now have some sort of a promo on every day of the week, but of course, the value to the player differs greatly depending on the offer.
In addition, websites may have unique bonuses or prizes on special days of the year to keep things interesting for their players, especially on any kind of popular holidays like Valentine's Day, Halloween, Thanksgiving, or Christmas. Some of these promotions can end up being boring and unimaginative so it always pays to shop around before signing up for a new account during these times of the year.
The Terms and Conditions
It's very important to always click the "Read More" button on a promotion to make sure that you know all of the terms and conditions of the offer that you are thinking about taking. Normally promos are fairly straightforward but sometimes operators will dangle a big percentage that has a high bonus rollover that is almost impossible to clear, meaning that you will never be able to withdraw any of your winnings.
That said, most places aren't looking to throw a bunch of hurdles between the player and the free money since that would just defeat the purpose of creating the fun promotion in the first place. Of course, it always pays to check first to be sure.