Anyone searching for something to be thankful for this weekend now has a fantastic reason to give praise courtesy of U.S. friendly Wild.ag and their hard working gaming managers. This website has quickly become famous for hosting massive competitions awarding hundreds of different leaderboard positions.
Today the $100,000 Thanksgiving Blackjack Tournament commenced with free entry for members and is running 24 hours a day until the ultimate victors are crowned. The only qualifier is to make a real money gambling deposit of $20 or more sometime during the last 30 days, with anything sent this weekend counting as well.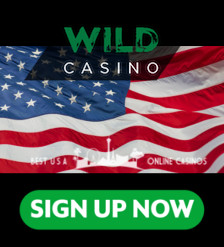 Start off with a stack of 250 chips and hunt for strong hands to hopefully finish within the Top 200 participants to receive a prize. If making an early exit, unlimited re-buys are available for $10 each, ensuring multiple opportunities at gobbling up the glistening white meat sitting at the end of the table.
The lucky first place player feasts on $6,000 while 2nd enjoys $4,000, 3rd devours $3,000, 4th munches on $2,000, with amounts systematically diminishing to $100 for positions 176th to 200th. Winnings arrive with a plump 50x rollover requirement before money may be withdrawn from accounts and any gains are capped at 2x of the original balance.
Also, keep an eye on the clock because if this obligation isn't fulfilled within 7 days, Wild will snatch those funds back quicker than tryptophan kicks in after four plates of turkey. Finally, windfalls must be strictly spent on designated games and not on progressive jackpot machines or live dealer tables, as per their normal regulations.
This virtual blackjack event ends promptly at 11:59pm ET on Monday, November 29th, 2021, so waddle over today to join a cordial contest for supplementary holiday cash.