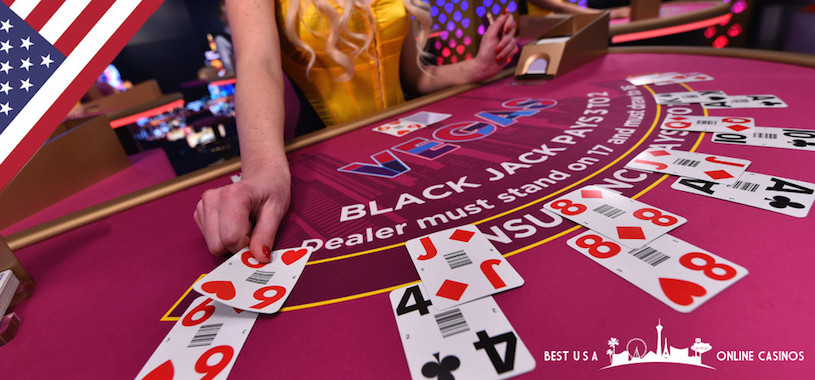 ***Updated: August 22, 2019***
It's no surprise that the most popular casino game in the country is blackjack since in order to win a perfect balance of skill and luck are required. We've all seen rookie players go on amazing runs hitting on hands they shouldn't have, while we sit beside them consistently busting out using our "optimal strategy". That's just how it goes sometimes.
Nowadays many Americans are playing 21 online instead of at brick and mortar establishments. It's possible to get on a table immediately, without wasted time sitting in traffic or finding parking, and it can played anywhere on a smartphone, whether it be from the beach or waiting for the dentist. Not to mention, free money in the form of bonuses is usually available to new account holders and there are multiple variations on offer, 24 hours a day.
The following list of the best U.S. online casinos for blackjack is updated every month and the rankings change depending on their welcome bonuses, payout timeframes, or if they've added alternative versions of the game. Some people prefer Switch or Double Attack to the classic, so having a good variety of options is also definitely important. The betting websites below are fully recommended by us and are guaranteed to pay winners – they are the most trusted operations in the internet gambling industry today.
Close your eyes and it's easy to imagine how everything came together. Given a deck of primitive playing cards, the first thing people would naturally do is draw them out one by one against each another, in an effort to pull the highest. After becoming bored by this, drawing two, then more, and so on is a reasonable next step.
The highest total of two cards is 20 but if all the face ones were made to count as ten it would have been too common, so the Ace was assigned a dual value of 11 and 1 to create a potential maximum of 21. It eventually morphed into what we have across the country today.
Although it's a great theory, no one really knows how "Twenty-One" came to be, because the true origins are obscured in the fog of history. Experts usually point to similar card games that you can gamble on as found in Spanish literature, dating back 500 years. For example, Miguel de Cervantes, who gave us Don Quixote: The Ingenious Gentleman of La Mancha, was apparently a bit of a betting man and mentioned seeing others like "21" in his writings from the early 1500s. The origin story is certainly plausible, but we'll never know for sure.
Regardless of where it began, it was then spread by travelers and tradesmen landing in the saloons of the American West in the 1800s. The French diversion of "Faro" was the passion of the frontier in those days, accounting for more revenue than all other forms of gambling combined. In order to promote the little-known game of Twenty-One, some proprietors offered an outrageous payout of 10-1 for any "21" that was formed with an Ace of Spades and one of the two black jacks. Unsurprisingly, "blackjack" quickly became the accepted name in old time dusty drinking holes, which is how we came to still have it in our vocabulary today.
USA Real Money Online Blackjack
We've searched far and wide to bring the operators offering the best real money online blackjack in the United States and every single one boasts at least a few unique versions of it. These use virtual cashiers, listing the banking methods currently available accompanied by full descriptions, including costs for how much charged to use them.
Funding an account is very simple nowadays thanks to cryptocurrencies, allowing depositors to move money quickly and securely from "electronic wallets" to the betting website with just a few clicks of a button. It's a little intimidating in the beginning but once a few transactions are completed it's easy to understand why many people choose to gamble using Bitcoin, and it doesn't leave a paper trail for anyone to find. Most places even offer higher bonuses for depositing with cryptocurrency since they are much easier to process – they begin and end as real cash, simply transferring over the internet.
For players who aren't convinced about how great crypto is, it's absolutely possible to play online blackjack with VISA in the U.S. or any other credit card like MasterCard or American Express. Remember though, the fees for these transactions are passed on to the depositor and deducted from the amount, sometimes as much as 9%, depending on the situation. Additionally, if the bank realizes what the purchase is for, future deposits could become blocked, and forcing players to find another way to do business.
The only method more cumbersome than the above occurs when someone wants to use Western Union for online blackjack and initiates a person to person transfer to fund their account. There are a few American casinos accepting money orders, but they take up to 24 hours to be received and the fees are astronomical, so better options exist. If speed isn't important and spending the extra cash isn't a deterrent, hop in the car and head down to the local Western Union office and fill out the forms – just make sure to get the beneficiary name and address prior to attempting the deposit.
The Rules of 21
Blackjack is played against the House and not other people, and land-based tables will usually offer seven seats allowing 1 to 7 individuals to battle the House each hand. Bets are placed before anything is dealt, according to the predetermined stakes. After wagers are made, two cards are delivered to everyone, including the dealer, both face-up and the second to the dealer face-down, unexposed. This last draw is known as the hole card.
The ultimate goal is to construct a hand closer to a value of 21 than the dealer, without exceeding it. The Ace is either high (11) or low (1), selected at the player's discretion. Face cards count as ten and the remainder of the deck is worth the number indicated. If someone is dealt an Ace and any 10, Jack, Queen or King, the total is a "blackjack" and an automatic winner which pays out with 3 to 2 odds. All other player wins pay even money and ties are a push, resulting in the refund of the original bet amount, except for a two-card BJ which always comes out on top.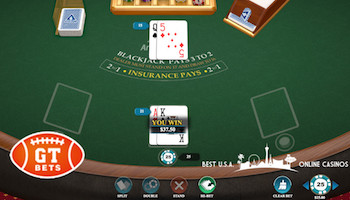 If nobody has 21 after the deal it's time to build a hand towards closer to this value, with the mission of beating only the dealer. An individual can opt to hit and take additional cards or stand, in order to cease drawing. In situations where the outcome is forced over the amount of 21 the hand is a "bust" and the stake is lost to the House.
Once everyone makes their decisions the dealer reveals the hole card and acts according to the set rules of the table. A vast majority of places require taking a card with anything less than 17 and cannot hit on total of 18, 19 or 20. Deviations from these rules are highly unconventional. Some require a stand on a "hard 17" (a ten and a seven) and necessitate a hitting on a "soft 17" (an Ace and a six), while others may simply dictate that they stand on all 17s. When the dealer finishes their action, bets are then resolved and a new round begins.
There are two opportunities for raising and getting more money on the felt. Firstly, following receipt of the first two cards a decision can be made to "double down". In this scenario, only one final card is dealt, making the total for that round. Doubling also requires enlarging the initial stake by 100% in order to "double" it. The most statistically profitable move is to double down on an 11, which should be done every single time the option presents itself.
Another prospect for bet expansion comes from a deal of two identical cards, by "splitting" them into two hands. The second must be staked, requiring an additional amount of the original value and each is played out separately, with doubling and splitting a possibility on each, always accompanied by further bets as things progress.
Variations
Within the standard rules of the game there are many different variations, offering exclusive twists. In European, the dealer only receives one card face-up and is not dealt a second until after those seated at the table make their decisions. Since a result of 21 will automatically win the round, extra bets on splitting and doubling could be in trouble.
A variant called Double Exposure delivers both dealer cards face-up, which of course dramatically changes the strategy to employ. In the version dubbed Spanish Blackjack, all of the 10s, Jacks, Queens and Kings are removed from the deck and hands of less than 21 formed using five or more cards are winners.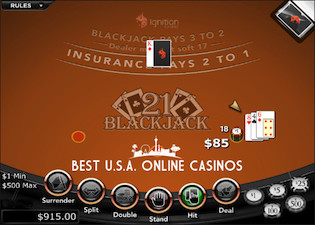 In New Jersey, they started to offer a "surrender" option as gambling was being legalized in the 1970s, enabling an individual to muck a weak hand and forfeit half of the original wager. This one has spread around the world due to its popularity among meek and timid people who are easily bullied out of their money.
Other places have rules on how many hands may be split, or restrict doubling to results of 9, 10 or 11. Some variations do not make busting an automatic loser; for instance, a player busts with a total less than a dealer's, and only half the stake is lost.
A side bet that has become standard over the years is "insurance" which is offered by the House any time the dealer's up card reveals the chance of them getting a 21. If they check the hole and it contains one, it pays 2 to 1, otherwise the insurance is lost and things proceed normally. The insurance wager is widely accepted amongst experts as being a waste of money.
Strategies
For hundreds of years Twenty-One was enjoyed by people blissfully unaware of probabilities and the hard numbers behind their choices. That all changed in the 1950s when four United States Army servicemen who possessed excellent mathematical skills set out to develop the ideal approach for playing blackjack, simply using pencils, paper, and primitive adding machines to complete the task.
The result was a basic strategy formulated from numerical trials telling them exactly what decisions should be made with every conceivable combination of cards dealt. Over time, there has been little variation to these strategy charts and while the originals are almost identical to those being studied today, one can reduce losses to a mere 0.5% of bankroll during a long session – much better than the average.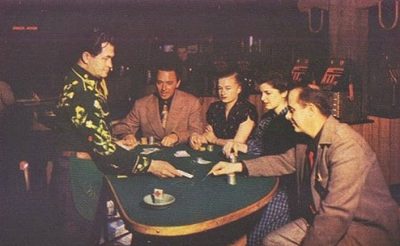 Strategy charts for the other variations of 21 are also available, but it's fair to assume online casinos did not introduce alternatives in order to give money away. Therefore, it's best to remember that new versions will probably arrive with a built-in House advantage of varying degrees.
Advantage players took the basic strategy and added an analysis of what came out of the deck to move the edge from "slightly in favor" of the House to "slightly in favor" of the player. Known as "counting cards", this tactic actually makes it the only game in a casino offering a possible player advantage.
Although the concept of counting cards is simple, the execution on a busy floor is not always easy and many so-called counters have surprised themselves by losing at the tables. Either way, the pit bosses throw out and ban card counters if they catch on so stick to smart, legal strategies instead.
Obviously, never try this online since the software resets and deals from a "new" deck after every round, making counting impossible.