Ever since Chris Moneymaker shocked the world of poker with his WSOP win in 2004, Americans have been in love with the game and dreamed of taking down a huge tournament with a life-changing cash prize. Of course, these are just fantasies for the most part, as only a tiny portion of players ever win big, and often it's the same veterans who finish in the money.
Now this doesn't mean that you should only sit down at the felt if you're an expert with hundreds of hours of playing experience. It simply means that you need to carefully monitor your bankroll and play within your budget as you go. Many individuals are guilty of gambling "too much too soon" at the poker tables and busting themselves right out of their dream occupation.
As a result, hundreds of thousands of people across the country figured out the hard way that they weren't going to be able to quit their day jobs and play poker for a living, as their bankrolls were hungrily gobbled up by better players. It's now commonly known in the poker community that the only way to get the necessary experience to do well at the game is to grind it out on the tables, day in and day out. You pretty much have to look at it like a full time job.
That said, with enough practice and skill you can join those in the U.S. who are making a very good living playing online poker. As long as there are fish, there is always money to be made.
Best USA Online Poker Rooms
If there's one thing that's true about the online poker community, it's that they can be very fickle about where they play. They hold websites accountable for every little thing that happens there – even the trash talk from other players at the table. However, as the game grew in popularity, more and more poker sites opened up to take advantage of the craze and give the drooling masses what they wanted: non-stop 24 hour action. People started to just gravitate to where the most action was and stopped caring about the perks or reputation of the operator.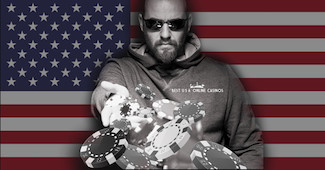 Then when "Black Friday" came along and shut down all of the country's biggest online poker rooms like PokerStars and FullTilt, dozens of the top sites were wiped out in a day, having been directly targeted by U.S. law enforcement. Only the strong survived, with the "strong" being websites that were owned by sole proprietors like maverick Calvin Ayre with Bovada, and a few others who were led by individuals who weren't going to go down without a fight.
Now over the past few years, poker has seen a resurgence and the "best" place to play is all going to depend on which factors you put a priority on. For example, some people don't care at all about bonuses, while others will only play at websites that add lots of free cash to their bankroll. Some players want to be able to contact customer service at any time of the day or night, while others don't care if their email goes unanswered for days.
However, when you look at every possible category of customer care, software, banking options, bonuses, number of tournaments, amount of cash tables, and everything else that's important at an online poker website, you can start to make some conclusions about who is rising above their competitors. Therefore, we now know that there are only a handful of places that you should trust with your bankroll and if you play anywhere else, you're on your own. Good luck.
Online Poker Tournaments
Today there are tons of different styles of poker tournaments available online in the USA, with the most popular game obviously being Texas Hold 'Em. Within that category there are many different ways to structure a tournament like short stack, deep stack, 6 seat, turbo, etc., and you'll be able to find all of those options at every website.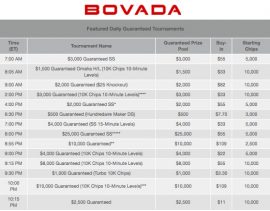 One of the most popular types of tournaments for rookie players is the "freeroll", which allows you to play for cash prizes or entries into real money tourneys without having to buy in with cash. These are always great practice for the real thing and a good way to test out your abilities against others risk-free. You'll find that many people often play a lot looser in freerolls than they would if they had risked their own money, but it's always going to take some skill to reach the final table.
Something to keep an eye out for is the "overlay" of a tournament, which can happen when a poker website hosts an event and guarantees a minimum amount in the prize pool. Occasionally you can find ones where only a small amount of players have entered, making it great value for anyone who's registered in it, with that extra money that didn't come from entry fees being known as "overlay". The bigger the overlay, the better your chances of winning money are, due to the smaller number of people you need to knock out of the tourney to get to the final table.
Cash Poker Games Online
Although many people across the country prefer tournament action, there are also lots who like cash games as well, and it was these players who drove online poker to the level of popularity that it's reached today. When you have the ability to sit down at a cash table 24 hours a day from the comfort of your own home, (or anywhere on mobile), this is obviously going to encourage a lot more people to play.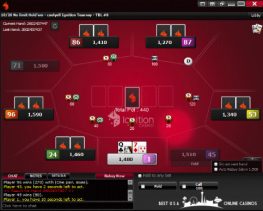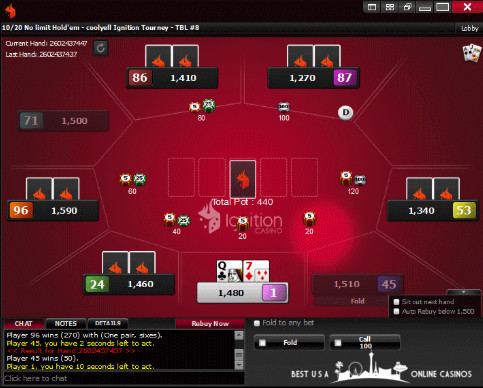 The most important thing to remember about cash games is that you can't simply transfer over your land-based poker game and expect it to work online. Moving past the obvious differences of not being able to see the faces of the other players or hear them speak, you need to drastically adjust your stake amounts because the online game is so much faster than in person. So if you're used to playing at a casino on tables with blinds of $2 and $1, you'll want to sit down at a ¢25 table in the beginning to protect your bankroll and get used to the rapid pace at which the cards are dealt.
Once comfortable, you can find blind levels of all different sizes, from high roller tables to just pennies a big blind. Whether it's Stud, Seven Card Stud, Omaha, Omaha High-Low, or Holdem, you'll find tables and stakes for any type of game that you could possibly be looking for.
Poker Points
The main way online players receive bonuses and rewards for their patronage is through a rebate system commonly known as "Poker Points", which are issued based on your rake, number of hands played, and average bet size. When you accumulate predetermined amounts set by the operator you're eligible for cash back or other perks, depending on the levels and specifics of the program. It's all very similar to the VIP reward systems you would find at land-based casinos in Las Vegas or Atlantic City.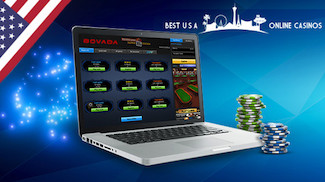 Some operators like Bovada will simply lump all of your poker play in with your casino handle and sportsbook wagers to calculate what level of player you are, and then reward you accordingly. Other places like BetOnline will isolate your poker activity and then reward you solely on that, and usually there will be a clearly outlined cash back system where you trade "X amount of points" in for "Y amount of money". The bonus funds may or may not come with a rollover depending on where you're playing.
Poker Software
Back in the mid-2000s when there were more poker websites than you could shake a stick at, members of the player community would always argue about who had the best software, who had the worst, and which features were "must haves" when playing online. These days there aren't nearly as many options so people aren't as choosy – they're just happy with what they have and consider themselves lucky. Of course, it helps that the software has come a long way since then and there aren't as many bugs or annoying quirks.
Before Black Friday took most of the top sites offline, there were tons of advancements being made with software and new functionality was released all the time. One of the most revolutionary breakthroughs was FullTilt's "Rush Poker" that enabled players to fold a bad hand and then immediately be taken to another table to receive new cards, eliminating the need to sit through a hand that you were no longer a part of. This of course "inspired" others to add the same functionality, with the aforementioned Bovada launching "Zone Poker", which coincidentally had most of the same attributes as Rush. Oh well, imitation is the sincerest form of flattery.
Mobile Poker
One of the biggest advancements in online gambling software was the invention of mobile poker, which allowed people to sit down at cash tables and join tournaments from the palm of their hand. For many years only Android devices like Samsungs were properly supported but in this era everyone is also Mac compatible and has their software optimized for iPhones and iPads too.
So now whether you want to play poker on a smart phone, tablet, or laptop, you'll be able to use the device that you want and still have a great playing experience. We should be thankful for this: there was a time not too long ago when it was absolutely impossible to play poker on the go – now we can play from anywhere in America with an internet connection. The technology has become almost perfect.