Get ready for some insane action on the felt tomorrow (Sunday) as there's a huge online poker tournament for U.S. players kicking off at 1pm EST boasting a 6-figure guaranteed prize pool, which is much bigger than anything else being advertised this month. It will absolutely change the lives of anyone skilled (lucky) enough to finish in the money and their spring will certainly start off with a "bang".
This massive event is billed as the $125,000 Guaranteed No Limit Texas Hold'em Tournament and it's  being held at the safe and secure BetOnline Poker Room, which comes highly recommended by everyone in the community. This place has really distinguished themselves amongst competitors over the last few years as they have an excellent selection of variants and games available at all hours of the day.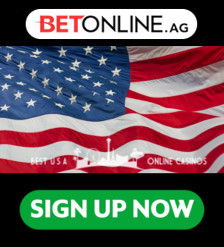 The buy-in is a paltry $109 and has 1st place winning $41,137 for taking it down while 2nd receives $20,987, 3rd gets $16,500, 4th feasts on $12,975, and 5th snags $10,200 for making into the Top 5. All standard tourney rules are in effect and it will take a few hours before the final winner is crowned so clear your schedule for the day.
While playing in the Main Event it's possible to multi-table and enjoy any number of cash games or tournaments, creating a flurry of non-stop cards being dealt and hands every couple of seconds. It's even easy to donk away chips on the go since the entire poker room is totally mobile and able to be downloaded on any portable device, even iPhones.
Those who don't already have an account can claim their 100% First Deposit Bonus and immediately double their bankroll before sitting down at a table, so visit the BetOnline Poker Lobby now and get registered and ready for action. From there they offer a 25% reload up to $125 on all future transactions, ensuring your starting chip stack will always be a little higher thanks to their generosity.
Good luck and may the flops flip your way!