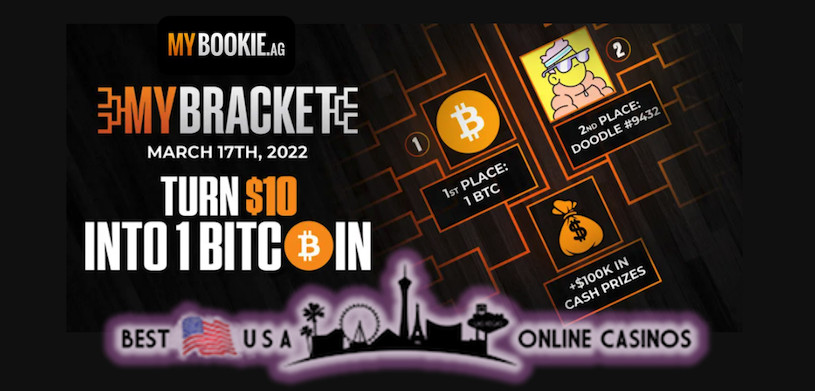 Everyone's familiar with March Madness contests giving away cash prizes, but this year consistently top ranked MyBookie added Bitcoin and an NFT to the kitty. This ensured that their MyBracket promotion for the 2022 NCAA Division 1 Men's Basketball Tournament is totally unique and stands out among their countless competitors.
Entrance fees are a microscopic $10 and there's even a Buy 2 Get One Free Discount if opting for more, with a maximum of 50 per person. First place receives one Bitcoin or the monetary equivalent of its spot price on Monday, April 4th, 2022, at 11:30pm, deposited directly into the member's account and immediately available to spend. Cash prizes start at $5,000 for 3rd place while 4th gets $3,000, then 5th nabs $1,500 and 6th takes $1,000, with sums continuously shrinking and ending at $60 for those sitting in spots 501 to 750.

The unconventional NFT prize goes to the runner-up, Doodle #9432, a piece of digital artwork currently turning down offers of around $30,000. This pastel jpg image will be sent to the proud new owner via an Ethereum address within 72 hours of the tournament's completion.
Even though the stakes are unusual, this promo follows standard procedure in regards to everything else, requiring picking the winners of all 63 games and predicting the final total of the championship. The scoring system is as expected and points increase as the tournament progresses:
1st Round: 1
2nd Round: 2
Sweet 16: 4
Elite 8: 8
Final Four: 16
Championship: 32
Entries may be submitted right up until tipoff of the first matchup commencing later today, (March 17th, 2022), at noon ET. So visit the lone offshore sportsbook accepting players from New Jersey as well as every other U.S. state to take a shot at college basketball prognosticating glory.