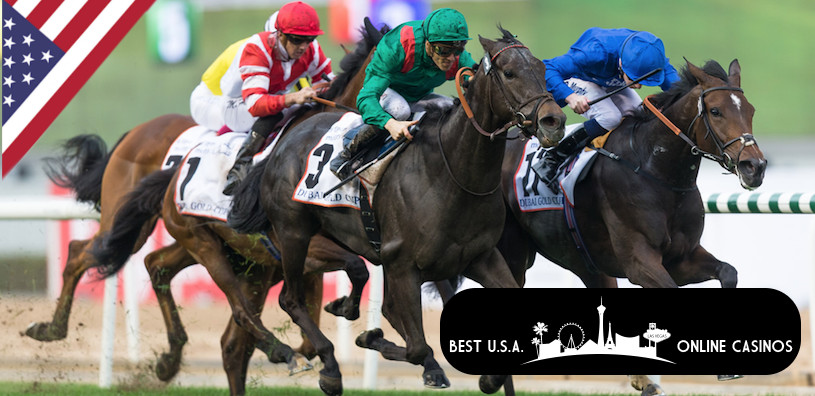 ***Updated: August 30, 2019***
One of the most important factors to look at when choosing an online racebook is the rebate system because it's a good measuring stick of how much they appreciate their customers. Cash-back on horse track wagers is commonplace in the industry, however, the programs differ greatly among U.S. online casinos and the details can sometimes be hard to find in their information sections.
For anyone needing clarification on what a racebook rebate is, it's the amount of money that will be returned to someone after they've made wagers on horse races at an offtrack betting website. Many issue the funds to players daily, while others do it weekly or even monthly, with the percentage of they give back differing from place to place. Terms and conditions are all unique as well.
Everyone has a distinct policy on what they return for straights and exotics, and on which specific grades of tracks. This guide to rebates at USA online racebooks will tell you everything you need to know about the programs available today at our top-rated books and outline the strengths and weaknesses of each.
Our team of veteran gamblers has weighed in on the following offtrack betting rewards programs and we've compiled a definitive list of the best available to U.S. players today. The sections below clearly outline what the details of each website are, and any fine print that is critical to know beforehand.
Best U.S. Online Racebook Rebates

GTbets has a whopping 15% cash back on monthly losses, issued on the 1st of the month, every month. They calculate the amount lost after bonus funds are removed, which is absolutely fair as they can't be expected to give extra perks on top of what they've already given…but what a wonderful world that would be!
There's a bit of fine print here that a player will definitely want to know going in, although certain factors can disqualify someone. For instance, if an account has been winning in the last 30 days, or accumulatively since the individual joined, they won't be entitled to receive anything. A program only rewarding losses isn't industry standard, but it does seem logical in this particular case because the size of their rebate is so large.
The good news is that if individuals are eligible for compensation they'll be issued on every track that they offer – no restrictions, and no rollover conditions on the returned funds. However, given that wagers made over the telephone aren't figured into calculations, always be sure to place them online.

The MyBookie Racebook features an 8% rebate for bets made on "qualified tracks", and it comes without any attached play-through requirements. Like many other sites, anything on Win, Place or Show that pay out $2.20 to $2 or less does not count towards the total that the rewards calculation is based on. Bonus cash is paid every morning, immediately available to be used.
Straight wagers on A, B, and C tracks receive 3% while exotics can pay a little more depending on where the race is running. Exotic bets made on A tracks return 8%, on B tracks 5%, and on C tracks the standard 3% is given, same as on straights.

BetOnline provides racebook rebates daily and their terms and conditions are quite similar to those of MyBookie, with nothing being issued on wagers paying $2.20 or less for $2. Additionally, they don't include anything from D or E grade tracks in their calculations. However, they do pay a straight 7% on all bets, whether they're straights or exotics, with one small exception. Any made on NYRA tracks will get a mere 4% back regardless of the type placed. Considering there is a very high betting volume at these ones, this is totally understandable.
Also, players will only earn 4% on bets made by phone, so if maximizing financial returns is a priority for someone, they'll want make sure all are placed online, (as their company name clearly suggests). Thankfully, the BetOnline Racebook is fully mobile compatible and it's possible to bet using a smartphone from anywhere in the country.
It is normal for casinos to have restrictions on telephone wagering and could be much worse. Just look above at GTbets  – they won't count anything booked over the phone, so be happy with that 4%.

The Bovada Racebook used to offer one of the best U.S. player rebate programs but they changed the entire website and it merged into their overall rewards system. For many years, customers would enjoy a simple 3% on straights and 5% on exotics, issued to their accounts every Tuesday. It was easy to comprehend and there was no hidden fine print preying on those who hadn't read their full Help Section.
These days things are a lot more complicated at Bovada due to their intricate VIP program which has 6 different tiers, with each tier having 3 exclusive levels – yes, this is pretty darn complex. All of a user's gambling is now grouped together and computed to determine exactly how much in rebates they should receive. The categories are broken down by casino, poker, and sports handle, with racebook action being lumped into the last one.
Starting off, a flat 2.5% is given on all losses and slowly increases up the ladder, based on volume of activity, an addition of .25% for each level climbed. The maximum is 7.5%, but it can take hundreds of thousands of dollars in wagers to get there, so people better either be very patient or high rollers.
All of their cashback comes is accompanied by a 1x rollover, which isn't terrible, although obviously not as good as requirement-free. Nevertheless, they've been in business for over 20 years and their reputation alone makes them one of our top betting destinations on the internet today, so if you're ok with the crazy rewards system they're definitely worth a close look.