Summer break is over and the beginning of September brings a bonanza of sporting events, officially bidding farewell to warm weather. Due to Coronavirus, many leagues have pushed their seasons into autumn, including the 2020 Kentucky Derby, running tomorrow evening on NBC.
To celebrate the return of professional ponies, USA compliant BetOnline Racebook is offering a $10,000 contest that's completely free to enter. All members receive a complimentary questionnaire with 10 propositions and individuals answering 10 out of 10 correct either take the entire $10k or shares the pool evenly with others picking perfectly. The sole qualifier is wagering $10 on the event, which anyone entering will surely do anyway, so stake the entire amount on one horse to finish first or break it up into exactas, trifectas, or quinellas, if desired.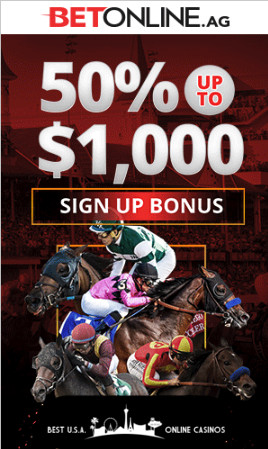 This is actually the only promotion posted at A+ rated offtrack betting sites for the 146th running of the Kentucky Derby, which is certainly strange as it's always a high profile occasion every year. However, since the calendar for 2020 has been anything but "traditional", most places are focusing on NBA Playoffs and the return of NFL next week.
Every question is based on Race #14 at Churchill Downs and has possible answers of either "yes" or "no", or numerical ranges to select from. Examples of straightforward props are, Will Tiz The Law win?, Will a Bob Baffert trained horse win?, and Will Secretariat's record time of 1:59.2 in 1973 be tied or broken?.
From there prognostications get harder with, Time on the first half mile over 46.8 seconds?, Will winning starting gate number be between 1 and 10?, and Will everyone on the podium be wearing a mask?. Although perfect predictions snag the prize money, if nobody gets the 10 props correct the pool is split amongst those with the next highest scores.
Post time is 6:30pm ET tomorrow so visit highly-recommended BetOnline now to lock in picks and get action down on The Fastest Two Minutes in Sports. Seven entries have current odds of +5000 and higher ensuring plenty of long shot options to choose from, although Winning Impression at +10000 might just be the "dark horse" hidden in plain sight.