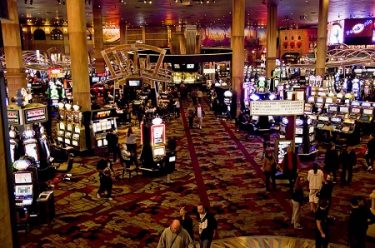 ***Updated: October 20th, 2020***
Attractions encountered in a casino like blackjack, roulette, and craps, feel as if they've always existed, but they're actually relatively modern. Walk into an original 1660s gaming establishment in Venice, Italy and none would be found. Visit an Old West saloon in the mid-1800s and cards being dealt would be for a hand of Faro. Sit down at a 1960s poker table and antes would be for Stud, not Texas Hold'em. Stroll over to pre-1970s slot machines to confirm neither video poker, progressives, nor 3D titles are found. In short, plenty has changed, mostly due to everything moving onto the Internet.
Online casino games are typically grouped into three categories: tables using dice, cards, or wheels, electronic machines such as slots, and then random number ticket inventions like keno and bingo. Action taken is usually determined by arbitrary outcomes, with the obvious exception of poker, which is played amongst a group of individuals being hosted.
Occasionally, certain creations fall out of favor and are pulled, never to be seen again, so those profiled here are considered the most popular ones enjoyed around the world today. Some are reminiscent of earlier contests of chance, whereas others have no clear ancestral ties whatsoever. However, a characteristic they all share is House advantage.
Simply stated, a casino stays in business by offering payouts not quite equal to "true odds". For example, when tossing a die, the true probability that any of the six numbers will be rolled are 1 in 6, but instead of paying 5-1, the House only awards 4-1. Consequently, it's vitally important one understands House Edge: the financial return players can expect over a gambling session. Mathematically, largest returns are found on activities requiring an element of skill and strategy, as with blackjack. Anything easily learnt or subject to pure luck, such as roulette, often reaps lower rewards over time.
All games of chance feature variance, enabling customers to win, but only in the short term. Slots offer the highest variance, providing the most single event payouts, therefore producing the lion's share of operator profits during long sessions. Sites also earn revenue by facilitating hands between players, like dealing poker, for example. When people compete against each other, the host takes a percentage or rake from every hand, cashing in on action regardless of not directly participating.
In summation, there's a good reason the expression, The House always wins, is known around the globe. Always ensure to execute decisions with this fact in mind.