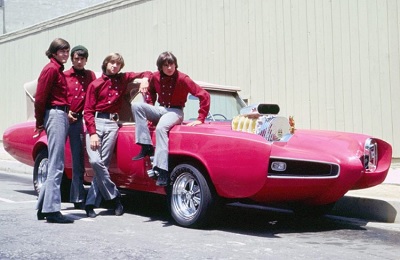 ***Updated: August 18, 2019***
People have been betting on poker with three cards for hundreds of years, so it was a little surprising when Derek Webb showed up at the British Casino Association with his version of the game in 1994 and was denied the chance to sell Three Card Poker to United Kingdom operations. They told him to find statistics where it was already up and running and make a case for its uniqueness.
Since Webb's variation was not actually being played anywhere he flew to the United States and began pitching his idea to executives in Las Vegas and Atlantic City. No one would bite, even as he demonstrated how quickly hands could be resolved and that House edge was a plump 3.5%, putting it near the top of the most profitable casino games for any establishment carrying it. Only Barry Morris, who was operating the Grand on the Mississippi Gulf Coast, became intrigued enough to offer a three-week test period to decide if they wanted to investigate further.
Webb raced down to Gulfport, Mississippi to quickly train the staff and set everything up. During the trial he resembled a carnival huckster lassoing players to explain rules and barking instructions to dealers to distribute the cards properly. At the end of three weeks, tables were filling and Morris found himself counting stacks of cash. Shuffle Master initially obtained rights to sell the title outside of Great Britain; Webb only gained the rights to distribute throughout the UK in 2002. It has become one of the biggest-selling proprietary gambling games of all time.
Rules
Most who are familiar with traditional poker get confused in the beginning because the ranking of hands is different in Three Card. The highest possible is a straight flush, which is obviously better than a regular one. Sadly there are no "Royals" in this version.
Once seated the person is presented with three vertically-aligned betting spots. Before the deal starts, some places require placing an ante in the center, to wager against the dealer. Others give the option not to match the hand against the House and instead bet on getting a minimum of one pair, referred to as the "Pairs Plus" route. One or both can usually be found commonly at casinos.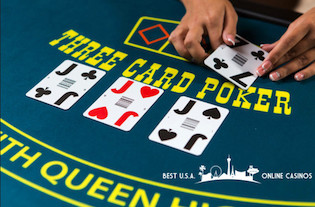 After receiving their cards, each individual decides to either keep going or fold. To continue, an amount equal to the ante must be placed in the Play Circle at the bottom of the betting spots (or in the "Call" box, depending on the design of table felt used) and when all decisions are accounted for the dealer's hand is revealed. They've got to have at least Queen high or "No Play" is declared, where antes paid at even money and extra wagers are pushed back to those still in the hand, negating action for that turn. If the dealer instead beats the entire table, ante and play bets are lost, and if the player wins, both are won and paid out at even money.
The Pairs Plus bet requires a pair or higher to win, striking the dealers hand irrelevant. The true odds of obtaining at least a pair are 4 to 1 and the payout will be lower than true odds. Additionally, the "Ante Bonus" payouts for 3 of a kind, flushes and straights. These are simply added rewards from the House to incentivize people, so additional cash is not required in order to qualify for them.
Variations
Alternative variations also exist. In the UK, a version referred to as Prime includes a 3rd bet on the color of the cards. If all three are black or all three are red the payout is 3 to 1, while matching the dealer's colors returns 4 to 1.
Another game-within-a-game is Six Card Bonus which is the best poker hand possible, combining the player's cards with the dealer's, resulting in a better hand. Extra payouts begin for 3 of a kind, and free funds that are simply gifted from the House, since it's independent of the clash between the individual and their employee.
The majority of operators outside the country use the name christened by Derek Webb and shell out royalties to either him or Shuffle Master to have tables properly listed and identified. Alternatively, "Tri Card Poker" is used by some USA betting websites to refer to this title, in order to avoid paying for the trademark of the official game.
How To Play
Many opt for Three Card Poker to relax and mindlessly battle against the House. That said, according to optimum strategy, hands worse than Q-6-4 should be folded every time. If this formula sounds too hard to follow, merely fold anything without at least a Queen high.
Use this rule as a baseline for when to seek action and  you'll find the play fast-paced and easy to enjoy – just don't get overly aggressive with the antes because bankroll can disappear very rapidly. Make sure to determine a budget before the session, and stick to it.