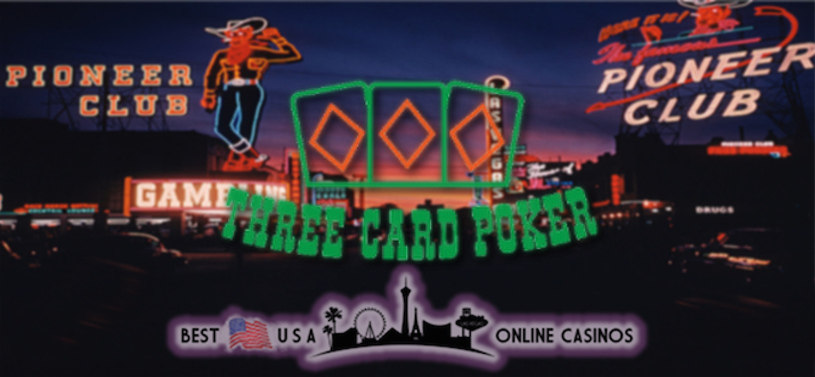 ***Updated: November 16th, 2020***
People have been betting on poker with three cards for hundreds of years, so it was a little surprising when Derek Webb showed up at the British Casino Association with his version in 1994 and was denied the opportunity to sell Three Card Poker to United Kingdom operations. They told him to gather statistics where it was already up and running to make a case for its uniqueness.
Since Webb's variation was not actually being played anywhere, he flew to the United States and began pitching his idea to executives in Las Vegas and Atlantic City. No one would bite, even though he demonstrated how quickly hands could be resolved with a plump House edge of 3½%, making it one of the most profitable casino games available at the time. Only Barry Morris, who was operating The Grand on the Mississippi Gulf Coast, became intrigued enough to offer a three-week test period to decide if further investigation was warranted.
Webb immediately raced down to Gulfport, Mississippi to train staff and set everything up. During the trial, he resembled a carnival huckster lassoing onlookers to explain rules while barking instructions to croupiers. After three short weeks, tables were filled while Morris reaped mountains of profits. Shuffle Master initially obtained the rights to sell it outside of Great Britain, with Webb only gaining legal permission to distribute it throughout the UK in 2002. It has subsequently become one of the largest-selling proprietary games of all time.
Rules
Those familiar with the traditional version are usually slightly confused starting off because the ranking of hands in Three Card is different. Highest possible is a straight flush, which is obviously better than a regular one. Also, most are disappointed to learn "Royals" don't exist in this adaptation.
Once seated, three vertically-aligned playing spots are presented, with some places requiring an ante in the center to go against the dealer before action begins. Others give the option not to challenge the House and instead stake getting a minimum of one pair, referred to as Pairs Plus. One or both styles can commonly be found regardless of destination.
After receiving cards, individuals may either continue or fold. To proceed, an equal amount to antes are placed in Play Circles at the bottom of chip spots (or Call Boxes, depending on design of table felt) and when all moves are complete, the dealer's hand is revealed. They must hold at least Queen high or No Play is declared, resulting in antes paid at even money and extra wagers pushed back, negating action for that turn. If the dealer instead beats the entire table, both ante and raises are lost, and if the customer is victorious, both stakes are won and paid evenly.
Here is an tremendously valuable video tutorial by The Wizard of Odds, Michael Shackleford, explaining rules, how to play, optimal Three Card Poker strategy, and why certain decisions should be taken in particular situations.
Pairs Plus requires a pair or higher to win, rendering dealer hands irrelevant. True odds of obtaining at least a pair are 4 to 1, however, payouts will be at a lower percentage, with Ante Bonuses awarding 3 of a kinds, flushes and straights. These are simply added incentives for patronage, so supplementary chips are not required to qualify.
Variations
Alternative variations also exist in the UK, referred to as Prime, including a 3rd wagering option on color of cards. If all three are black or red, a 3 to 1 return is realized, while matching the dealer's colors yields 4 to 1.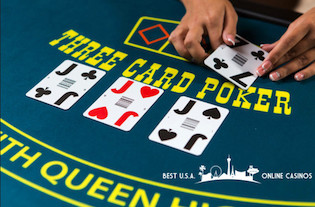 Another game-within-a-game is Six Card Bonus, is the best result possible, combining all cards on the table to complete superior hands. Extra payouts commence at 3 of a kind with funds simply gifted from the House, since it's independent of activity between clients and croupiers.
The majority of operators outside England use the name christened by Derek Webb and shell out royalties to either him or Shuffle Master to have tables properly listed and identified. Alternatively, Tri Card Poker is used by some USA online casinos to refer to this attraction in order to avoid paying for the official trademark.
How To Play
Many opt for Three Card Poker to relax and mindlessly battle against the House. That said, according to optimum strategy, anything worse than Q-6-4 should be folded every time. If this formula sounds too hard to follow, merely fold if not holding at least a Queen high.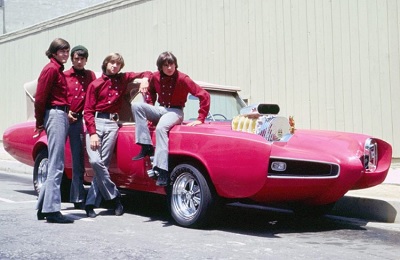 Use this rule as a baseline to easily enjoy fast-paced action and don't be overly aggressive with ante amounts because bankrolls can disappear extremely quickly. Ensure to determine a budget before beginning each session and stick to it.