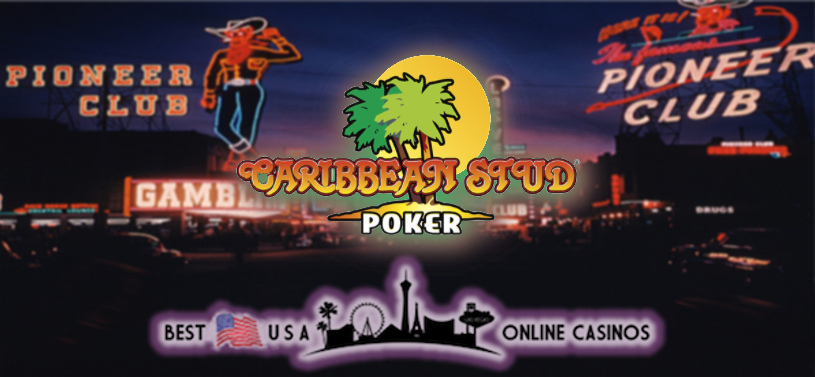 ***Updated: August 22, 2019***
The name may sound as if its origin is full of foreign intrigue but in reality, the history of Caribbean Stud Poker is more "mundane" than "mysterious". It actually began on cruise ships in the 1980s as a way to play poker against a dealer instead of others seated and then in 1987 a Las Vegas insider named James Suttle acquired the rights.
Legend has it he supposedly bought the patent for virtually nothing from a gambler on a bad run in Binion's Horseshoe one fateful evening. Suttle later resold the rights for a massive profit to wealthy businessman, Danny Jones, who ran King International in Aruba.
Jones then spent several years trying to sell it as Casino Poker, but mathematically it gave too large a House edge. Cruise ship passengers never cared about throwing cash away onboard while sailing the high seas and simply chalking it up to a "good time", however, brick and mortar establishments relying on regular customers didn't want to gain a reputation for dealing anything with odds that bad.
It took a computer specialist named Michael Titus to solve the problem, who calculated how a progressive jackpot similar to linked slot machines on a network could compensate for the heavily-tilted, House-friendly numbers. Titus and Jones cobbled together a progressive jackpot for tables and rebooted as Caribbean Stud Poker, which became the standard version found at United States online casinos today.
Rules
Like regular poker, action starts with a mandatory ante up totable limit. Anyone desiring to contribute to the progressive jackpot makes a secondary separate stake and then if dealt a flush or better, a portion of current prize amount is won. Higher hands pay out more with the entire kitty being taken by an extremely lucky person holding a Royal Flush, the best outcome possible.
Once all chips are placed dealers distribute five cards face-down to participants, as well as four face-down for themselves and their final one face-up. In Caribbean Stud there are no bluffs, nor additional cards to draw or be revealed.
Returns are based on a paytable beginning at one pair, so if players have less than that, hands are mucked losing both ante and progressive bet, if made. If holding at least a pair and decide to take on the House and their exposed card, stakes equal to antes are required.
After everyone acts, dealers show their results and must hold a minimum a King High or No Play is declared. Anyone staying in beyond the ante wins that stake back plus a matching total, secondary amounts returned as they didn't hold a playable hand or did not open.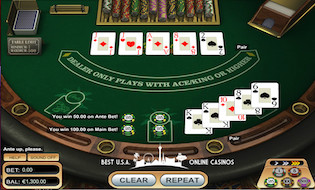 If the dealer does open, all bets have action. Like blackjack, customers are competing only against them and not anyone else. If a customer beats the House, chips are paid, with up to 100x for a Royal Flush. However, if the dealer has high hand, both antes and bets are lost.
None of this impacts possible progressive payouts, however. Someone could have a Full House and lose to a dealer Straight Flush and still win their designated share of the jackpot. The usual cost to qualify for progressives each time is $1, occasionally rising to $2 depending on location.
Variations
Some establishments offer an identical version as described above, instead calling it Caribbean Hold'em. There are also Caribbean Draw Poker variants where hands can be improved by drawing one or two cards, although usually this bumps the minimum for dealers to open from King High to Eights or Better, or a similar smaller pair.
European variants exist dispensing with jackpots and simply hosting Casino Five Stud Poker, just like cruise ships, which some find more enjoyable.
How To Play

Like blackjack, Caribbean Stud Poker optimal strategy charts can lower the House edge to around 5%. When deciding to take on dealers based on a single card showing, aggressiveness should hinge on whether hands hold a blocker to protect against a possible pair, especially if the exposed card outranks the player's highest pair.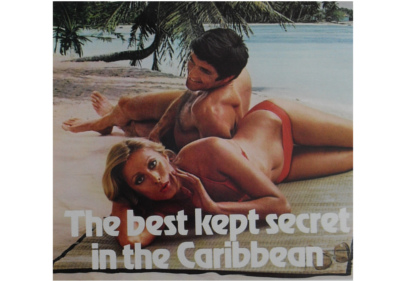 Without bluffing and raising, the main excitement are progressive jackpots, which can sometimes be close to 6 figures. Otherwise, this is just a game of War using five cards instead of half a deck. It's advised to invest the $1 for a chance to win the life-changing prize as they are regularly triggered.