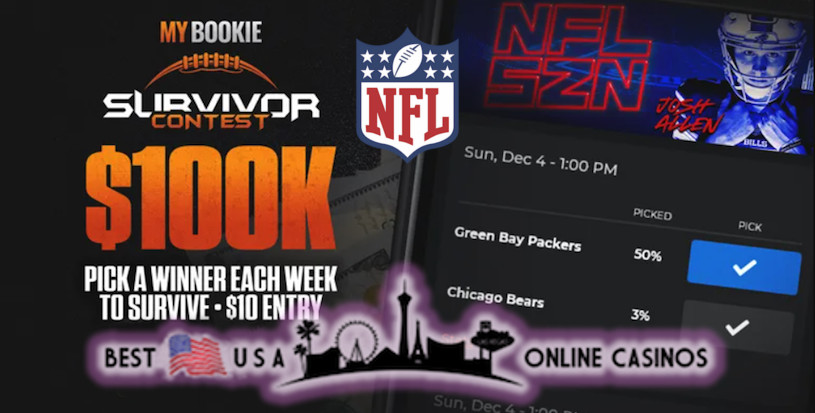 There hasn't been much U.S. online gambling news to write about this summer but now that September has arrived, excellent promotions are being announced daily. A prime example is an NFL 2022 Survivor Contest offering $100,000 to anyone lucky enough to make it through the entire season without choosing a loser, and the best part is it only costs $10.
It begins this coming Thursday, September 8th, at industry-leading MyBookie Sportsbook which has become known for doing very little marketing on site, yet somehow getting their name constantly mentioned in popular media outlets. This is primarily due to fair odds, prompt payments, and first class customer service, and now every American in the country can join this fun, exciting, and hopefully lucrative pool.

Standard survivor pool rules are in effect requiring participants to choose one team each week to win, with losses or ties resulting in immediate elimination, and winning squads only able to be chosen once. Victorious competitors continuously advance until Week 18 with anyone left standing declared a winner and splitting the $100k pot, or only one person remains to scoop up the entire amount.
A new stipulation that arose last year during the pandemic dictates that if a game is cancelled or postponed and not played before the following Wednesday, both teams will be graded as a loss. However, as a consolation prize for this hypothetical tragedy, buy-ins will be refunded, up to the maximum of 10 which MyBookie tournament managers permit.
Registration closes promptly at 8pm ET on Monday, September 12th, as that's when the last matchup for Week 1 kicks off between Denver and Seattle, and entries without selections at this time will be forfeited. From there, games will lock 5 minutes before they're scheduled to commence so players may change picks right up until the last moment.