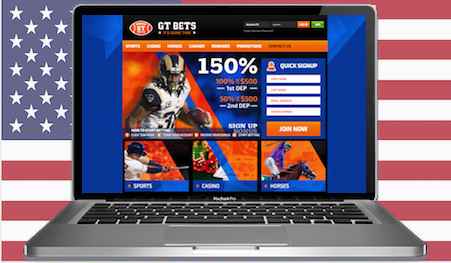 Offer:

100% Cash 1st Time

Special Code: BestUSA

PLAY NOW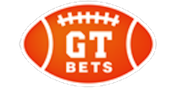 Everyone loves a good underdog and GTbets has been swinging at the fences for a few years now offering everything possible you'd ever want to gamble on. Add that with tons of monthly bonuses and rewards and it's easy to see why they're climbing up the rankings.
Huge Sportsbook
Offtrack Betting
Big Rebates
---
---
Review of GTbets Casino
Here we have a great U.S. betting website that's been gaining ground in the market since their launch in 2011, primarily thanks to solid customer service and wide array of products. Of course, it doesn't hurt they also offer every major racetrack in the country, several Las Vegas style table games, and a huge list of virtual slot machines. This place has pretty much anything imaginable except for live poker, which is quite rare to find.
Loads of different banking methods are accepted and financial transactions are taken very seriously, guaranteeing funds are consistently safe and secure. Continuous incentives and extra advantages the entire time means the majority of newcomers never leave.
This 100% honest and unbiased review of the GTbets Sportsbook & Casino relays what should be known before joining such as fine print on rebates, quality of mobile software, and how to get exclusive promotions.
GTbets Bonuses
There is a vast assortment of bonuses to be found here whether originally signing up or registered for a while. Starting off, an immediate 150% welcome match up to $500 on the first real money deposit is supplied, followed by 50% to $250 on the next. However, if anyone has stung them for a big win with the original balance and asked for a withdrawal, they won't give a second match as punishment for the victorious ways.
The minimum sum to qualify for the Hello Offer is $35 holding a 10x rollover, which is fairly small in comparison to others. This generosity is evened out by a stipulation stating any wagers with odds over -300 will not count towards rollover so be careful when placing action.
Things then become a little complicated with their reload bonuses because 3 requirements must be met in order to receive it. First 75% of the last deposit amount has to have been lost with 25% or less remaining. Second, if the last financial activity was a withdrawal the person isn't eligible, and thirdly the account must be "qualified" for incentives. That's an awful lot of rules to observe when trying to figure out if some free cash is arriving – just call into their customer service center to directly confirm the status.
Those who rejoice in putting chips on the felt can look forward to an automatic 10% Weekly Casino Rebate issued every Tuesday. A straight-up credit with no rollover, it's limited to clients who haven't won during the last 30 days nor requested a payout. It's always nice to be rewarded but these terms are firmly tilted in favor of the House so hopefully they are updated soon to be more player-friendly.
The same 30 day conditions are on Racebook Rebates, giving 15% cashback on all of straights and exotics to entitled members. It arrives on the 1st of every month, again only to anyone who hasn't won too much or asked to be paid.
The complex terms are actually present in a lot of promos. Occasionally no deposit bonuses are extended but with a maximum win amount of $100, and with a $60 bank wire fee to get the loot, it ends up being a meagre $40. Why even bother? This is a shockingly strict rule most won't enjoy.
They're clearly not fond of the lucky or triumphant – sharp bettors might want to keep on trucking.
GTbets Games
The previously-mentioned sportsbook is what separates them from the crowd as soft lines are posted throughout the year. Whether craving to bet on NFL, NBA, MLB, UFC, or NHL, it's all here with weak numbers, as well as every popular international league around the world.
The GTbets Racebook is fantastic because it has both thoroughbred and quarter horse races, and offers all major USA tracks with a few minor ones mixed in for good measure. Important annual races are available including the Kentucky Derby and Belmont Classic with fixed odds enabling straight and exotic wagers.
Usually full track odds are mirrored on Win/Place/Show, although some limits may be seen, especially for sharps. Gamblers across the United States will be happy here if only for the fact there are no tax deductions on returns nor declarations made to governmental agencies. That said, it's absolutely an individual's sole responsibility to know local laws and declare earnings if necessary.
When examining the casino section it's instantly realized that everything is present, featuring favorites such as blackjack and roulette alongside niche ones like Keno and Scratchies. Digging deeper unearths Red Dog, 21 Burn, Caribbean Stud, Pai Gow, Baccarat and many other tables, possibly leading to new discoveries.
As a robust suite of products was incorporated into the fold, there are close to 50 unique video poker machines (which is one of the largest selections found on the internet) with a couple of novel versions of Joker Poker and Jacks or Better. Titles then get wilder with All American, Aces & Faces, and Split Way Royal leading the extensive lineup of electronic gaming cabinets.
GTbets Deposit Options
Every online sportsbook has a single trait in common: all accept plastic. Things are no different here and the "Big 3" of MasterCard, AmEx, and VISA are equally approved deposit options.
Their finance team goes the extra step by announcing prepaid Gift Cards should be acquired as they've been a secret preferred method for years. Just go buy a prepaid card at any store and use it to transfer the entire sum – it's not difficult to do and has a high success rate. Make sure to grab one eligible for international purchases or it won't work properly.
These guys consider themselves cutting edge so it's no surprise members are allowed to send casino deposits with Bitcoin, up to a max of $10,000 per transaction. There's also free withdrawals with BTC at GT since it's clean for both sides to use and the fees are negligible.
The cryptocurrency choices don't stop there however, and attractive ones like Bitcoin Cash and Litecoin are available. These two outstanding coins are similar to Bitcoin but not as expensive to buy on crypto exchanges resulting in a better understanding of conversion rates. Don't worry, it's painless to learn how to do it and expertise is acquired in no time.
Their cashier's list is finished off with a mysterious option called "Quick Cash" that necessitates contacting them for details. There's a $100 minimum with it and a bizarre maximum of $630 that doesn't quite make sense. Chances are this refers to either Western Union, MoneyGram, or a similar service executing overseas monetary transfers.
GTbets Mobile Casino
Now we arrive at the GTbets Mobile Casino, accessible anywhere in the country with WiFi. It has everything under the sun and is compatible with all brands of smartphones, Windows, and iOS including iPads. The technology automatically recognizes device type and optimizes itself for screens and operating software, looking awesome no matter what's pulled out of a pocket.
It unsurprisingly has the expected diversions of blackjack, craps, and roulette, accompanied by a wide array of slots, although what pushes things over the top is a gigantic sportsbook facilitating action from anywhere. Whenever the urge arises simply whip out the phone and book something in seconds, ensuring sweet lines are never missed again.
It's even possible to re-up balances in addition to entering payout requests when wishing to be paid. Therefore, it's conceivable to make a wager on a game from the stands, win it, and then have the funds sitting back in a crypto wallet in the time it takes to fight through traffic and return home. Technology these days is absolutely amazing.
GTbets Reward Program
The GTbets reward program pays back patronage via their separate website gametimerewards.com and are a rare operator who actually gives a choice to receive physical items as gifts instead of financial incentives. For example, a DVD set with 80,000 points, an officially licensed NFL football for 130,000, and if able to log 560,000 they're exchangeable for a Playstation 4, with many other interesting items catalogued too.
Points are also allowed to be used to enter sweepstakes with 1,000 possibly netting $25, 1,500 qualifying for $50, and 2,000 being eligible for $100. These run randomly throughout the year so read the information page for full details on what's coming up.
Nevertheless, most players are going to desire cold, hard cash and this is naturally an option as well. Starting with 2,000 points it's an extra $2 with no strings attached and then moving up the ladder it ultimately maxes out at a million points, exchangeable for $1,000, including various independent monetary levels along the way.
How to Open a GTbets Account
It doesn't take long to get rolling: tap the green button below and then hit "Join" in the top righthand corner of their homepage. If you live in the U.S. and bet on sports you'll definitely want to have an account funded and ready to go, or even just to gamble on wonderful Las Vegas games or stake some ponies at the track.
They're quickly becoming one of the best operations in America today so go check them out if you're interested in something exciting and new.

Customer Service:

7.5

Promotions:

8

Payout Speed:

7.5

Banking Options:

8.5

Industry Standing:

7.5