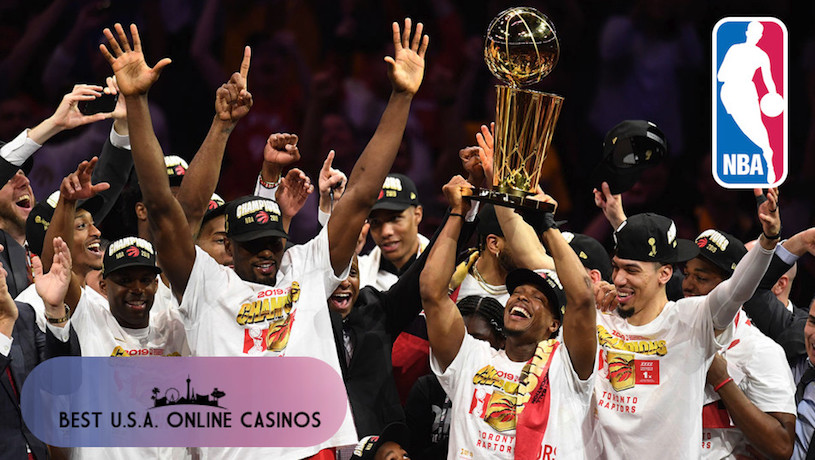 Now that the dust has settled on summer free agency signings and blockbuster trades between teams trying to make it to the summit, it's time to examine current odds for 2020 champions. As usual, only the best NBA sportsbooks will be mentioned, with no reference to anyone who isn't completely recommended and reviewed.
Every fan is predicting the 2019/20 professional basketball season is going to be the best one seen in well over a decade. Many teams have a legitimate shot at winning the Larry O'Brien Trophy and no one knows for sure how rankings will finish in either conference.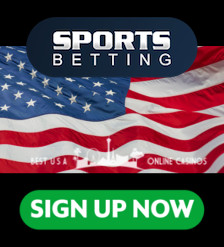 That said, experts of course hold an opinion and the consensus among them is the Los Angeles Clippers are favorites to win, obviously thanks to the Kawhi Leonard signing (and to a much lesser extent, the Paul George trade). The worst number out there flatlines at +300 but amazing value at SportsBetting.ag is found with Clips (+350), definitely a solid option.
They even list the plumpest line for the Los Angeles Lakers (+450) to be champions instead of +400 posted everyone else. The Lakers are a tough team to predict this year since no one knows for sure how LeBron and Anthony Davis are going to play together (or if it will be enough to succeed even if they become an amazing duo).
Trends continue for 3rd favorite as SB.ag also hung the highest number for the Milwaukee Bucks (+500), guaranteeing members enjoy benefits no matter who in the top 3 is staked. Milwaukee got embarrassed by Toronto and lost a few key players so it will be interesting to see how they rebound.
Finally, a different website checks in for most people's 4th favorite, the Houston Rockets, who just landed Russel Westbrook and dumped Chris Paul, basically guaranteeing they'll do better next year. Those agreeing this is a huge upgrade for them should lay Rockets money at low-key yet respectable GTBets to get a current payout of +950 instead of +800 (SB.ag) or even +700 (MyBookie).
Top 5 favorites finish off with every bookmaker convinced the Philadelphia 76ers deserve that spot, even though they lost Jimmy Butler to Miami and JJ Redick to New Orleans. Odds are really all over the place for the Sixers, but hit up SportsBetting.ag because they again offer value with +800.
Those curious about other NBA teams and roster strength this season can check current 2020 Championship odds below courtesy of SB.ag.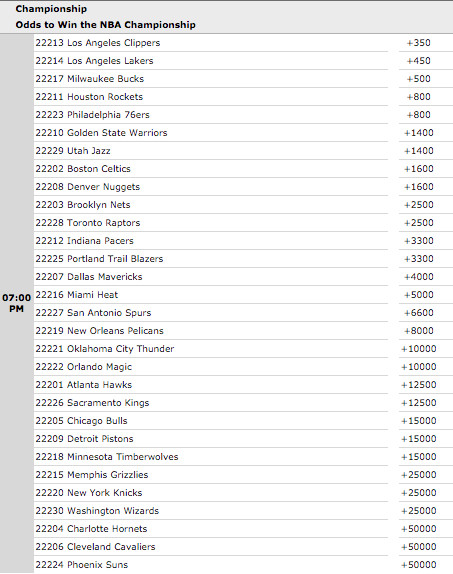 ***All odds correct as of July 16, 2019.***