Even though the 2021 NFL Season doesn't officially begin until a week from tonight, the completely-endorsed Wild real money USA casino has decided to celebrate a little early this year. This football themed contest was launched yesterday attracting both fans of the sport and 21 enthusiasts seeking to measure their skills against opponents.
Their $100,000 Kickoff Blackjack Tournament is handing over a top prize of $15k to whomever has reached top position when the event ends on Monday, September 6th at 11:59pm ET. In fact, the top 50 finishers enjoy a slice of the pie because 2nd place gets $12,500, 3rd pockets $10,000, 4th bags $7,500, then amounts systematically descend to $500 for spots 31 to 50.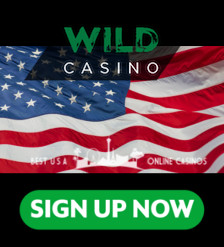 Prizes hold a hefty 60x rollover requirement before cleared for withdrawal and it must be accomplished within 7 days or the funds expire, with a firm 2x cap on how much can be won. Also, as per Wild's standard terms, only select games are playable as live tables and progressive jackpot machines restricted.
It's absolutely free to join and each player starts with 250 in chips to play blackjack online in any way they see fit. Those unhappy with their rankings upon busting out may buy back in an unlimited number of times for $10 each, recommencing with another stack of 250 to hopefully improve scores.
So if craving some pigskin-branded action, visit soon and navigate to their bustling tournament lobby to register. Some extra hours to stack up chips could mean all the difference in the world.