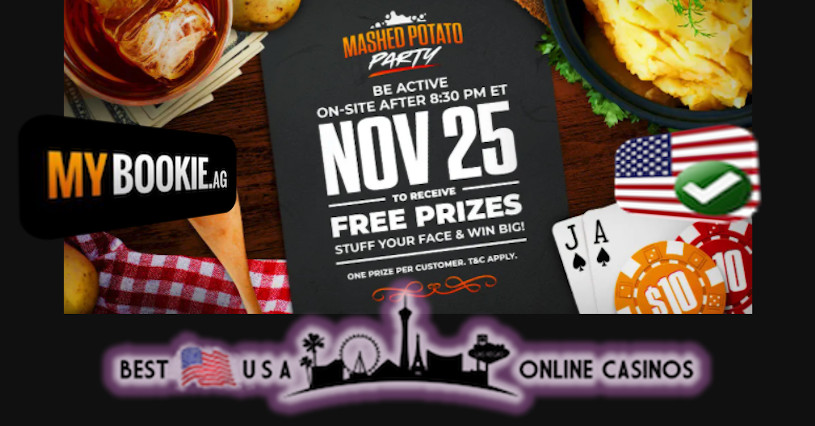 Holiday dinners aren't complete without a healthy helping of mashed potatoes and now highly trusted MyBookie U.S. Casino is making sure everyone has more than enough to dump onto their plates. Only those still craving nourishment should look at this glorious feast because it doesn't start until 8:30pm ET on Thanksgiving night, well after dirty dishes are done soaking in the sink.
Actually, this Mashed Potato Party is serving up two extra portions of treats, with seconds arriving between 12:31pm and 4:30am, ensuring insomniacs or anyone waking up on the couch from a turkey coma can continue to stuff themselves. Simply login during the aforementioned times to see a Mashed Potato pop-up and hit Claim Now to grab whatever is displayed.

Tons of prizes are available issuing free spins to win real cash playing slots that automatically load onto featured machines. Additionally, complimentary chips to throw down on various tables such as blackjack and roulette will be distributed throughout the evening, immediately appearing on balances for use once confirmed.
This delicious spread promises to provide increasing rewards based on time spent celebrating, so participants diving in headfirst will be amply recompensed for their patronage. Plus, invitations to future parties can be unlocked if meeting certain criteria, which will surely be exclusive Christmas bashes in December featuring lucrative presents and cheerful excitement for all.
To top everything off, the current MyBookie Sign Up Bonus is a plump 150% match up to $750, if never registered there before. This fantastic opportunity merely lasts eight hours in total, so head over soon to book a seat at this overflowing buffet of goodies.