Everyone loves getting free stuff and now there's a new promotion at Wild Casino that'll have Americans worked up into an absolute "frenzy". Many readers will immediately know that these types of rewards aren't offered at too many places so this one is definitely special.
The new offer is called Free Spins Frenzy Reloaded and it's running every week on Fridays and Saturdays for the rest of the year, and maybe even beyond that if we're lucky. Every week players will have a shot at claiming 50 free spins just for enjoying Spinfinity Man Slots or Gold Canyon Slots, with 1 awarded for every 5 spins of $5 or more on the featured machines. Therefore, after 250 turns you'll have grabbed the maximum amount of 50 gratis games from Wild and their delirious marketing department.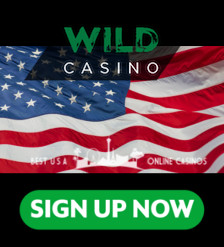 Just make sure you keep an eye on the clock because the qualifying period is 00:01am EST on Friday to 23:59 EST on Saturday, so if you're on the west coast you'd better recognize the time difference. Think you can put your watch back in the bedroom dresser drawer after that? Wrong! That's because you'll have to use the spins you receive within 48 hours or they will slink back into the dark jungle from where they came, never to be seen again.
Don't get too "wild" about this rule because most U.S. online casinos now have expiring bonuses and promotions to encourage you to use the freebies quickly and move onto the next big deal around the corner. However, the good news is any winnings you generate don't come with a rollover so they can be withdrawn immediately as cash.
The spins can only be used on the aforementioned titles so don't go wandering off to play anything else until finishing them. Once you've enjoyed the rewards feel free to click around and check out all of the other great products on their site – there's tons of fun to be had. So head on over and visit Wild Casino today to enjoy gambling from the comfort of home, anywhere in America.