It seems like there's a never-ending supply of slot contests to report on throughout the year but most of the other products don't get nearly as much attention by operators. Thankfully, one of the smaller fish on the scene recently announced weekly tournaments featuring online roulette for U.S. players that will give away some awesome prizes to the top finishers.
The fish in question is Wild, one of the premier sister sites of the spectacular BetOnline franchise of betting properties that specializes solely on Las Vegas style tables and slots, all while welcoming USA players from coast to coast at their website with open arms. How much do they want your business? Well, they're currently offering a massive $5,000 welcome page to all new signups so it's safe to say they're ready to treat you right.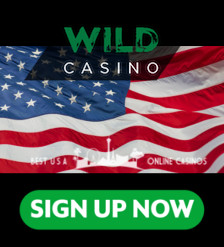 In any event, their Leader of the Pack Roulette Tournament runs every Saturday without fail and ponies up $1,000 in free casino chips to whoever finishes on top of the leaderboard. Many will be surprised to learn that only the Top 3 players get prizes as 1st is awarded $500, 2nd $300, and 3rd $200, with everyone else receiving bupkis.
In order to qualify for the board simply bet real money on their American Roulette wheel and start stacking up the winning spins. Then the three people who add the most cash to their balance by midnight EST get the extra chips and go to bed happy.
Anyone who read our exciting review of Wild Casino for American residents already knows that the free money flows in this jungle like water and there's always something to wrap your lips around – especially if you like pulling on the one-armed bandits. It's very nice to see them raising the bar by offering something fun for tables too since this is definitely an underserved segment of the market.
The only wonky terms to concern yourself with for this "Pack Roulette" promo is that the chips need to be spent the following Thursday by midnight or their customer service manger will rip those bad boys right off of your balance. Also, there's a minuscule 1x rollover on any winnings before it can be withdrawn, which is both expected and reasonable.
This hot wheel action is spinning every Saturday so go visit Wild now and get signed up to try to win a little extra as you place those inside and outside bets. Just make sure to keep your eyes on the (bouncing) ball.