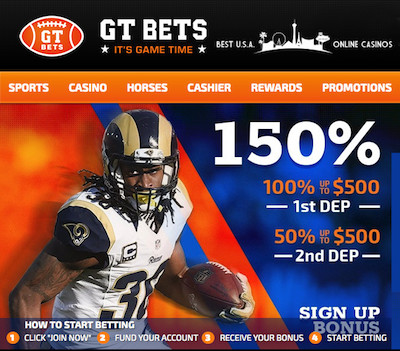 One of the most generous sportsbook promotions you'll find in the United States today has sadly been buried in the online gambling news headlines. This is thanks to the outrageous prop wagers being offered at some places, as well as the creepy celebrity death watch bets you can make at others. Well that changes right now because every gambler in America should know what they could be getting in on each and every week courtesy of GTbets, who accept all players from coast to coast.
We've been quietly keeping an eye on these guys for a while now and we've been impressed with what they have to offer, and we're also getting very good feedback from our readers. For anyone unfamiliar with them, you should go read our expert review of the GTbets Sportsbook which will answer any and all questions that you may have beforehand about their product.
So what is this "amazing" promo that they have on the go? Well, it's honestly like nothing that we've ever seen in the U.S. gambling space before: they give you a free ½ point on 1 team for their entire regular season. They call it the "Favorite Team Discount" but you can of course choose any team that you would like. Therefore, if your favorite team is the Green Bay Packers and they're favored by -4 points, you'll get the line at -3.5. Awesome, right?!
Now you're thinking, "Oh – it's just for NFL – no big deal". Well first of all stop being so negative all the time, and secondly you're absolutely wrong: this promotion allows you to choose a favorite team for the NFL, NBA, NCAAB, and NCAAF. Those are obviously the four biggest sports for betting in America every year so you should be able to enjoy this offer no matter what you like to gamble on. And the fact that they're offering both NCAA basketball and football is a huge perk that you simply won't find anywhere else.
Don't worry about the "fine print" restricting you from betting a lot. The maximum wager each time is $3,000 and it's available on all straights, but only on the full game, (no parlays, teasers, or quarter bets).
So if you want to get in on this fantastic promotion, as well as their massive 150% up to $1,000 Welcome Package, go signup for a new GTbets account today and get things rolling. This is definitely one of the best sportsbook offers you can find out there – don't miss out on it.