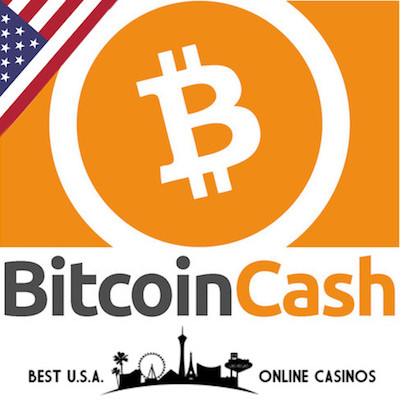 ***Updated: August 15, 2019***
Originally launched in the summer of 2017 in an attempt to increase Bitcoin's limit regarding block size, Bitcoin Cash or "BCH" was created by those who were not happy with the plans for the capacity change. The developers "forked off" from the mainstream cryptocurrency and spawned the new coin, giving anyone already holding BTC a matching amount of the newbie, which was a little less than 10% of the original at the time.
Then in November 2018 it split again into two distinct commodities due to another disagreement on its future with the birth of "Bitcoin Cash ABC" and "BSV" (Bitcoin Satoshi's Vision). This time it was Craig Wright and Calvin Ayre (the founder of Bovada) who backed SV, while Jihan Wu and Roger Ver were championing ABC, which is an abbreviation for "Adjustable Blocksize Cap". Today the main differences between the two are simply the technology used and the block size, with both sides claiming that their version is superior to the other.
Make no mistake: Bitcoin Cash is not a "younger brother" and a somehow inferior product. It's popularity is growing at a much faster rate than most other options on the market because it's a fantastic peer to peer electronic currency and it can also be used in over 200 brick and mortar shops around the world.
How to Deposit at Online Casinos with Bitcoin Cash
The story here will be a familiar one to many as a deposit at online casinos with Bitcoin Cash is the same as most other Alt Coins, including all of the fashionable ones. First off, it's necessary to open a "virtual wallet" and know how to buy cryptocurrency, which only takes about 10 minutes to learn.
Then money can be moved into the Blockchain wallet via bank card, wire, or credit card to purchase limitless amounts, with the current exchange rate and fees clearly shown before confirming the order. Once the process is completed contact the chosen betting website and ask them for a "BCH address" that will be a unique string of letters and numbers.
From there simply go back to the wallet, click "send", and copy and paste the address and click "confirm". The transfer then needs to be accepted by them, usually taking no longer than an hour depending on how busy their finance team is at the time.
Once received they'll send a confirmation email and the funds will be ready to use upon the next log in. This all might sound a little complicated now but after gaining a bit of experience it becomes old hat since it's one of the easiest ways to execute electronic financial transactions today.
The Pros and Cons of Bitcoin Cash
Some may argue Bitcoin Cash's market volatility could be a "con" but a few diehard gamblers consider the fluctuation in value part of its allure. By the time a payout is in hand it could be even more money than originally won, or it could have just lost a healthy percentage of its worth.
This type of unpredictability will be scary to some but if BCH is converted back over to USD as soon as possible there shouldn't be any major changes in the exchange rates. Obviously, the probability of extreme fluctuation rises the longer it's kept it in crypto form so don't dilly dally.
The main strength of this method is the amount of people using it is growing steadily as its popularity isn't stifled by the scaling issues that many other coins face. Therefore, it should enjoy higher market penetration than its competitors thus increasing its adoption rate by average consumers, solving the investor confidence issue it had when it was first released.
If all that isn't enough, there are also two huge "pros" when compared to BTC…
Bitcoin Cash VS. Bitcoin
As we now know, the value of Bitcoin Cash can bounce around much more than the commodity it spawned from that (usually) holds it quite well. This initially might be a turnoff for some who are interested in trying it out, however, swings are going to affect any currency on the market, crypto or not, so it just has to accepted that there's a small risk when using it.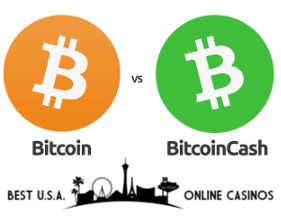 In regards to timeframes, occasionally it takes up to 24 hours for a BTC transfer to be confirmed by casinos, while BCH is only minutes. This is due to its congestion-free network utilizing robust blockchain technology and ensuring that transfers are always lightning-fast. Simply stated, their infrastructure can handle a lot more traffic per second.
The other main difference between the two Alt Coins is the fees charged for each transaction. It only costs a fraction of the cost to move compared to BTC and that's money saved for a bankroll – the better choice should be obvious.
Best Bitcoin Cash Casinos
There are still only a handful of USA online casinos who accept Bitcoin Cash as a deposit method but due to customer demand it can be found at more places than before. Although there's not a huge selection to choose from, the top-rated ones are SportBetting.ag and GTbets since in addition to slots and table games, they also feature full sportsbooks taking bets on the NFL, NBA, and every other major league around the world. Not to mention, racebooks to place horse wagers at every major race track in America.
For those wanting to play internet poker with BCH, the sole option is the aforementioned SportsBetting.ag who host Texas Hold 'Em, Omaha, and other popular variations, as well as massive tournaments. Without question they're a leader in the industry admired by many.
However, if these extra products aren't attractive, go check out Wild who launched in the fall of 2018 and come backed by the same company as SB. Specializing in bringing Las Vegas slots and table games into people's homes, great bonuses, professional customer service, and quick withdrawals are also on the menu. They're definitely worth a serious look.