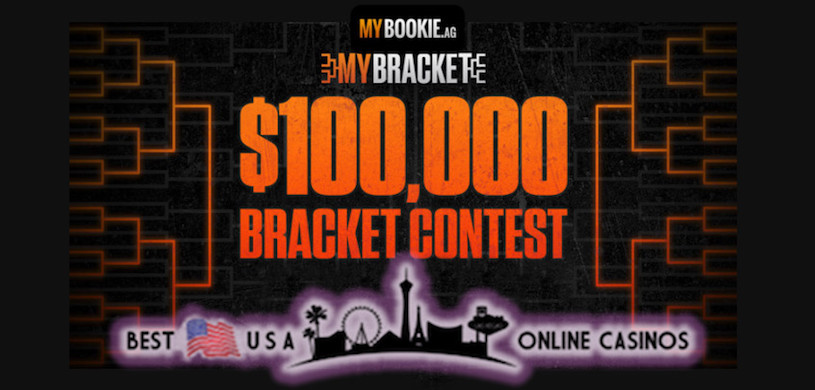 Great news arrived last week when industry leading MyBookie betting site announced they're once again hosting a huge pool, finishing off the 2020/21 NCAA Mens Basketball Season with a bang. This year's installment promises to be better than ever, especially since the 2020 tournament was cancelled, and now the $100,000 March Madness Bracket Contest is set to reward top prognosticators possessing exceptional skills.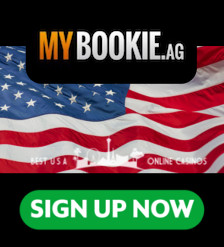 Entries are only $10 a piece and a maximum of 10 may be bought, leaving plenty of margin for error, offering protection against a few early "busted brackets" triggering a quick exit. If experiencing issues with the purchase process, confirm attempts are being made with real cash funds because bonus balances may not be used.
To join, simply visit MyBookie, signup an account or login into an existing one, navigate to the Contest page and tap Purchase Now under the MyBracket logo, and then hit Buy Entries. Ensure to fully complete forms as any missing information voids it, consequently designated as eliminated. Also, take time to verify picks since they can't be changed once submitted.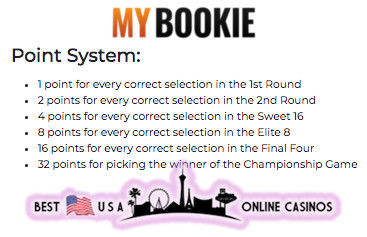 Leaderboards are constantly updated as results pour in, with screen names reranked every few hours. Then, whomever ultimately has most points on April 5th pockets $25,000, amounts descending accordingly down the ladder, with $12,500 for 2nd, $5,000 to 3rd, $2,500 given to 4th, and so on. Shockingly, any profits earned arrive without rollover requirements attached like online sportsbook promotions and bonuses normally have, meaning withdrawals may be requested immediately.
Standard rules apply such as a tie-breaker question determining final standings, Total points scored in the Championship Game? asked as per usual. If still even after this is tallied, prizes from various levels are split equally, for example, if two players tied for first, sums for 1st and 2nd place are added together then divided by two.
Registration opens Sunday, March 14th, 2021 and closes on Thursday the 18th at 12:15pm ET, so enter as soon as possible to lock in tourney bracket buster selections beforehand. Below is the full list of positions getting paid in MyBracket 2021, with exact dollar amounts awarded for each.