Another Friday, another great online casino promotion at a Deck Media betting website for the weekend – it's just like clockwork. Since last year they've been following a strict marketing calendar that boasts weekly contests and giveaways that are keeping players across America both happy and interested.
Today we have an offer from Red Stag which is one of their hidden gems that many people still don't know about. They're hosting a "March Madness Shootout $6,500 Freeroll" allowing their members to take a shot at a cash prize pool for the insanely low price of $0. If you bust out you can easily buy back in for the very reasonable amount of $5.99 to continue your quest for a piece of the $6,500 pot.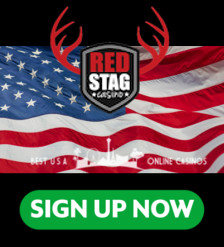 The featured game is Funny Moolah Slots starring a cop, a gangster, and a sexy female companion, and the entire theme of the machine is in the style of the fabulous Art Deco of the 1920s. There are tons of colorful symbols, Scatters and Wilds to help boost your balance, and you can even sneak into the back door of a private club to grab free spins.
Anyone wanting to know a little bit more about this operation can check out our complete gambling guide for Red Stag that details all of their games and bonuses. There's also a full explanation of their VIP program and rewards that you will enjoy there.
However, if you just want to jump right in with both feet and get started now, they're offering 45 free spins on Goblin's Gold Slots to welcome anyone who's never signed up with them before. Simply enter Red Stag Bonus Code: "GOODGOBLIN" in their cashier once you've opened an account to get the no deposit bonus and try them out totally risk-free.
This offer expires on March 31, 2019 so you'd better go register today and claim your spins.