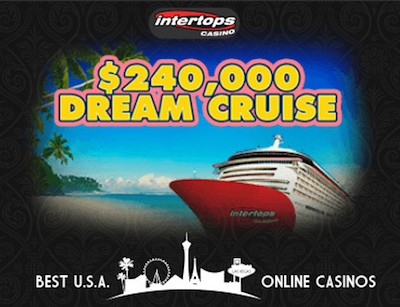 Sure Americans across the country have been enjoying beach weather all month but who doesn't want to take things up a notch and go on a luxurious cruise? Well, now you have a chance to go on a "dream cruise" that consists of nothing more than stacks of free cash and your imagination, courtesy of a generous promotion at Intertops this summer.
They've titled their latest giveaway the $240,000 Dream Cruise but sadly there's no actual vacation involved and they're only supplying you with the money to go book one for yourself. For 8 weeks this summer they're giving away $30,000 in cash prizes if you end up at the top of their weekly leaderboard, ensuing that there are tons of opportunities to snag a piece of the action. Anyone who's read our expert review of the Intertops Casino will already be aware that they have a steady stream of promotions that are launched every week, so this crazy offer won't come as a surprise.
They're actually giving away a whopping 300 individual awards every Monday with amounts up to $500 and all you have to do is deposit and play with $75 or more and you'll automatically qualify for the promo. You'll then earn 1 point for every $100 wagered on any of their great online casino games for U.S. players that are featured on their website, with the points pushing you to higher positions on their leaderboard. They're even adding a "Thursday Draw" that will give out 50 free $20 to $150 bonuses if you've played at any time during the previous three days, opening up their wallets even more to their customers.
So if you want a shot at winning extra money just for enjoying your favorite games this summer, register at the Intertops Casino and start earning those points. All aboard!