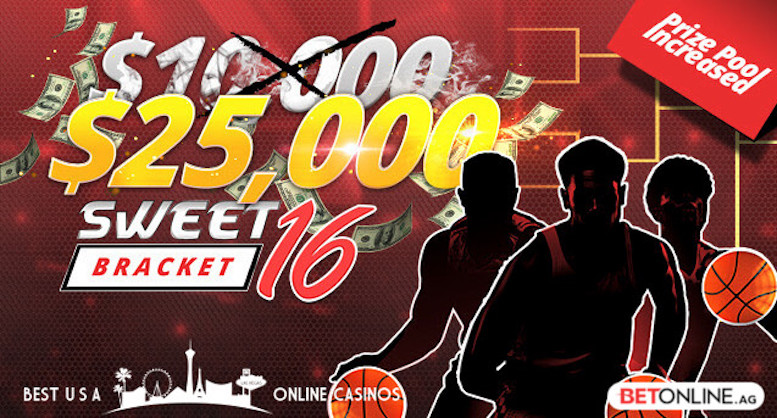 Well it probably shouldn't come as a surprise there's another round of 2019 March Madness Tournament contests now that we're down to Sweet 16 teams. This is one of the last big sporting events of the year before most recreational gamblers take a summer break, returning in September for NFL football. Although, professionals certainly stick around for The Masters, NBA Finals, and numerous other spring events.
For now, there's a new $25,000 Sweet 16 Bracket Contest from one of the top recommended USA online sportsbooks who's been extremely busy this winter, BetOnline. They realize countless people have already busted brackets at this point, so it makes perfect sense to offer a do-over.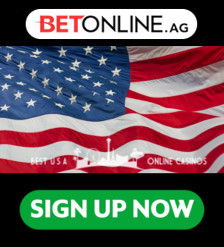 This contest works just like regular brackets filled out two weeks ago, with the only difference being this time there are 16 teams to choose from (and therefore less of a chance to screw up royally). Simply pick winners for every round until the Championship and the top 30 finishers with the most points will enjoy a piece of the $25k prize pool.
Most readers will already be quite familiar with this website, but if never hearing of them before, read this expertly-researched analysis of BetOnline to learn everything before visiting. They're known for being very generous to players so it's no surprise a special 100% deposit bonus up to $1,000 is also being extended, ensuring a bigger bankroll to blow on the NCAA Men's swan songs. The extra cash will come in handy since a maximum of 10 Sweet 16 Brackets may be purchased, giving everyone a few desperately-needed kicks at the can.
So if interested in the last action of the season, head on over to BOL today to bet college basketball online with Litecoin or any other popular cryptocurrency or credit card. Even a blind squirrel finds a nut sometimes.