Well they always say "better late than never" and now we have one last guest for this year's "Big Dance". Everyone likes taking a shot at a perfect bracket or at least the opportunity to get paid if they come close and now we have one more betting website who's given us an option.
This one comes courtesy of Head Bookmaker David Strauss and the legal U.S. online sportsbook MyBookie who have been making a big name for themselves over the last year with their aggressive marketing campaigns and outrageous gambling options. Now they've announced that they're hosting a huge $50,000 Bracket Contest for the 2019 March Madness tournament and it's very easy for players to get in on the action.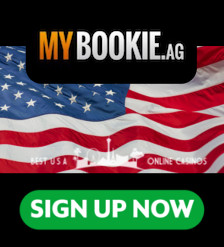 The $50,000 prize pool will be distributed reasonably among the top 125 finishers on the leaderboard with 1st place getting $5,000, 2nd place getting $3,000, and 3rd place getting $2,000. The cash then drops from $1,500 all the way down to a paltry $150 for places 101 to 125 but it's still better than a kick in the head.
Each entry costs $15 and you can buy as many as you like, just remember that there are absolutely no refunds so be sure of your picks before you lock them in. Once you purchase a bracket you must select the winners of all 63 games for every round, receiving points for every match you get correct. The points are weighted nicely and increase as the tournament gets deeper:
1 point for every correct selection in the 1st Round
2 points for every correct selection in the 2nd Round
4 points for every correct selection in the Sweet 16
8 points for every correct selection in the Elite 8
16 points for every correct selection in the Final Four
32 points for picking the winner of the Championship Game
So if you want to try your luck on a bracket for the 2019 NCAA Division 1 Men's Basketball Championship, head on over and sign up a new account at the MyBookie Sportsbook today and get in on the action. Just make sure you have some tissues close by for when "The Sadness" takes over.