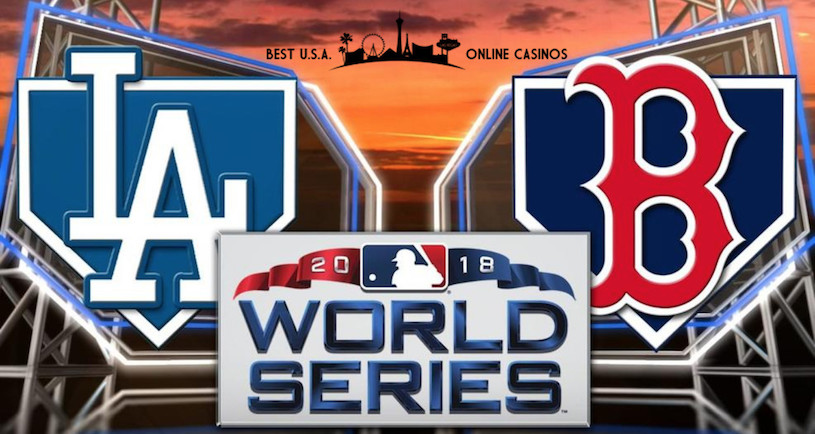 The 2018 World Series begins tomorrow night with two of the most storied teams of all time set to lock horns and battle for the coveted Commissioner's Trophy. The Los Angeles Dodgers travel to Boston to take on the Red Sox in Fenway Park in what has to be a "Dream Match Up" for executives at Major League Baseball. As is the case every year, there is now a stampede of people across the country looking for somewhere to place action on who they think will be champion, so let's take a look at American betting sites with great odds to help out those needing advice.
First off, there are numerous propositions to get down on, such as number of games it will go and total runs scored in the process. Over at MyBookie, who have some of the best gambling promotions around, they still have Boston as favorites to win the World Series, just like they did in September. "Da Sox" are currently at -170 to pop champagne while the Dodgers are sitting at +140, which is a decent value bet if you don't mind cheering for Yasiel Puig.
For anyone who really wants to get behind Puig's performance, stake him to hit the first home run at completely-vetted BetOnline Casino & Sportsbook, since they have a massive number of +1600. The present favorite to be first is Boston's J.D. Martinez at +600, while the longest shot on the board is a tie between Sandy Leon and Eduardo Nunez, both sitting at +2500. Sorry, guys.
For those liking futures, both agree on the most-probable outcome, the Red Sox winning in 6 games, with "MB" currently paying +350 and BOL at +400. Neither operator like the Dodgers to sweep in 4 with both awarding +1600 if it comes to fruition.
No matter what props you want to back, these two destinations always offer the best odds for World Series because both are starved for media attention and want to be known throughout the United States. At "BOL" it's even possible to bet on whether  fan interference will cause an out, in a direct nod to the nutty play in Houston last week. It seems variety is the spice of Life at this place.
To check out these great options and more, head over to peruse current odds at MyBookie and finish off the 2018 MLB Season with some excitement.