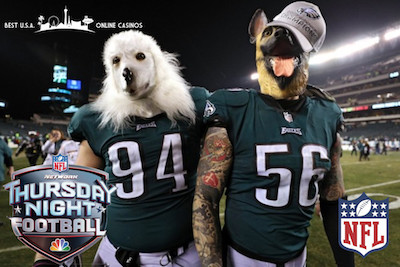 After what feels like an eternity to most gamblers, NFL football returns tomorrow night with the Atlanta Falcons travelling to the reigning Super Bowl Champion, Philadelphia Eagles. This battle of the birds would have been good on any night this year, but having it kickoff the 2018 campaign is pretty darn sweet.
Atlanta will be out to prove they should still be considered a contender to hoist the Lombardi Trophy next February, while Philly are trying to keep the chip on their shoulder that got them to the Promised Land last year. In short, with a national television audience watching who've been starved for football for months, both squads are going to come out with guns blazing.
So where are the best odds for betting this game? Well, that all depends on who you'd like to stake. Three out of the four top American books have Philly as favorites, and both BetOnline and Intertops have the line at -1.5, with better numbers being standard at these generous operators. The traditionally-revered Bovada (Bodog) Sportsbook has -1, effectively stealing a half point from anyone wanting to put money down on the Falcons. No one should take offense to this though, since line-shopping is a huge part of the process every week.
Things then get flipped upside down by the always-braggadocios MyBookie, who actually have Falcons -1. It can be assumed they've only posted that line to attract new visitors to their website for 2018, (well, ones who want to get down against Atlanta, that is). Not a bad marketing strategy at all, fellas. They even went a step further by setting the Over/Under at 45, while everyone else agrees it should be 44.5.
Those wanting more precise wagering options should check out the lines at BetOnline, allowing many possible score combinations. Good luck!
Falcons by 1 to 6 Pts +325
Falcons by 7 to 12 Pts +450
Falcons by 13 to 18 Pts +800
Falcons by 19 to 24 Pts +1600
Falcons by 25 to 30 Pts +3300
Falcons by 31 to 36 Pts +5000
Falcons by 37 to 42 Pts +8000
Falcons by 43 Pts or More +10000
Eagles by 1 to 6 Pts +325
Eagles by 7 to 12 Pts +450
Eagles by 13 to 18 Pts +700
Eagles by 19 to 24 Pts +1600
Eagles by 25 to 30 Pts +3300
Eagles by 31 to 36 Pts +5000
Eagles by 37 to 42 Pts +8000
Eagles by 43 Pts or More +10000

Thursday Night Football returns to NBC on September 6, 2018, with kickoff at 8:20pm EST.
***All odds correct as of September 5, 2018.***