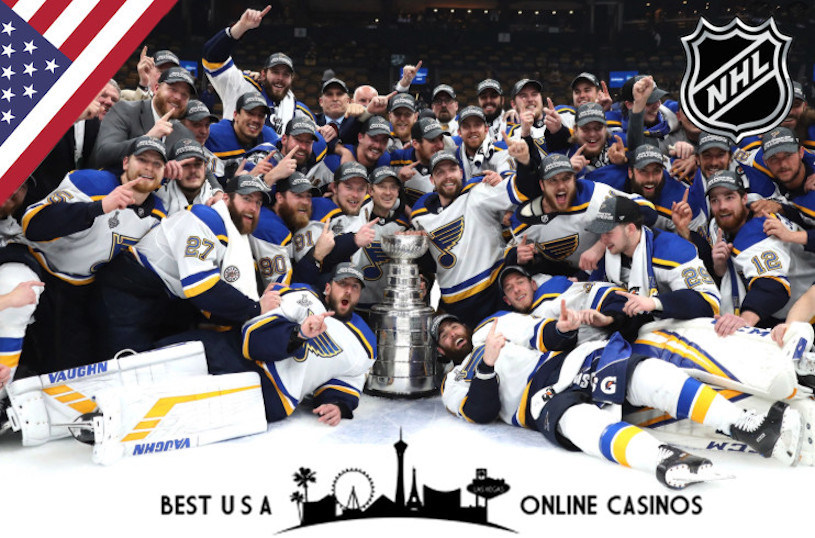 We're officially a month into the NFL season which means that NHL hockey is just around the corner, beginning on October 2nd with four great matchups that will start off six solid months of furious frozen action. Of course loads of gamblers across the country want to bet on who will the Stanley Cup as well as numerous games throughout the year, but the best U.S. online sportsbooks to place that action might not be known to many.
Therefore, this quick betting guide for NHL 2019 / 2020 will tell you everything you need to know before the first puck drops tomorrow night. The following list will be a familiar one to loyal readers as our main rankings have only changed slightly throughout the year, however, for NHL it's necessary to add a few new ones in due to their great odds on a few hockey futures.
All of the above made it on the list due to many factors, but mostly because of their huge selection of deposit methods, massive bonuses, and fantastic products. Every site is 100% honest and has been in business for a long time, building stellar reputations in the player community along the way. Anyone who's been here before knows we only promote a handful of trusted places and have been consistent with our recommendations for years.
Gamble on NHL with Cryptocurrency
These days everyone understands it's extremely easy to gamble at internet casinos with Bitcoin and other cryptocurrencies, and this obviously includes betting on professional hockey. Whether it's Bitcoin Cash, DASH, Ethereum, or Litecoin, there's a wide selection of websites accepting alt coins because they're quick, cheap, and totally guaranteed to be private.
However, the top U.S. book is SportsBetting.ag because they accept the largest selection of crypto for NHL betting, even taking the niche coin of Ripple in their cashier. They offer a special 100% match bonus for BTC and the others, as well as post numerous fun promotions throughout the year. Obviously the vast majority of contests revolve around the NFL but there are also tons of others for basketball, hockey, soccer, and tons more.
Bet on Stanley Cup 2020 Winner
All of the bookmakers are unified in their opinion that the Tampa Bay Lightning are the favorites to win the 2020 Stanley Cup, with the majority of books posting odds of +700 if it comes to pass. From there things get a little more interesting as the Leafs, Golden Knights, and Bruins are either in the #2, #3, or #4 spot with various numbers to be found for each.
Here are where the best odds for the following teams can be found:
Toronto Maple Leafs (+940) – MyBookie
Boston Bruins (+1400) – SportsBetting.ag
Vegas Golden Knights (+1200) – SportsBetting.ag
Things then get absolutely crazy and the numbers have no consistency at all so you'll have to do some serious line shopping to find value bets. We've done the leg work for you on the Top 10 favorites to win the Cup:
Colorado Avalanche (+1400) – BetOnline
St. Louis Blues (+1600) – SportsBetting.ag
Nashville Predators (+2000) – BetOnline
Calgary Flames (+2000) – Bovada
Dallas Stars (+2000) – SportsBetting.ag
Winnipeg Jets (+2200) – Intertops & Bovada
San Jose Sharks (+2000) – SportsBetting.ag
Washington Capitals (+2800) – MyBookie
There are also a lot of different lines out there for the more-popular NHL teams, so depending on who you root for, here's where to place those long shot wagers. Of course, picking the Blues to win the 2019 Cup last February would have gotten you rich so maybe these aren't too crazy after all. See if you can spot the pattern here:
Pittsburgh Penguins (+2600) – MyBookie
New York Islanders (+3500) – Bovada
Chicago Blackhawks (+3500) – MyBookie
Philadelphia Flyers (+4000) – MyBookie
New York Rangers (+4500) – MyBookie
Montreal Canadiens (+6000) – MyBookie
Buffalo Sabres (+10000) – MyBookie
Detroit Red Wings (+20000) – MyBookie
Los Angeles Kings (+25000) – MyBookie
It's clear that the only book for Underdog NHL gamblers is the MyBookie Sportsbook, run by international legend David Strauss. This was the guy who posted celebrity death odds, Trump impeachment odds, and Nathan's Hot Dog Eating Contest odds… all in the same day. Now he's posting double the payouts for hockey Dogs than most of his competitors. He is a known maverick who intentionally dangles meaty odds and dares the public to beat him. In fairness, not many have so far.
Finally, with all due respect to the (presumably) fine citizens of Ottawa, Canada, your hockey franchise is an absolute dumpster fire. Whether it's your miserly owner, old stadium that's 45 minutes out of the city, or the players being put out onto the ice this year, it all stinks. The Senators are the biggest long shots to win the Stanley Cup at every book in the world, but of course the payouts vary greatly.
Who's got the biggest odds on the Sens to hoist the Cup in 2020? You guessed it – Strauss…paying a shocking +30000 if they pull of a miracle (the next closest line is +15000 at BOL). There's probably a better chance of the Panthers moving to Quebec City midseason though, so place your action accordingly.
That's it for now Puck-Nuts – good luck this season!