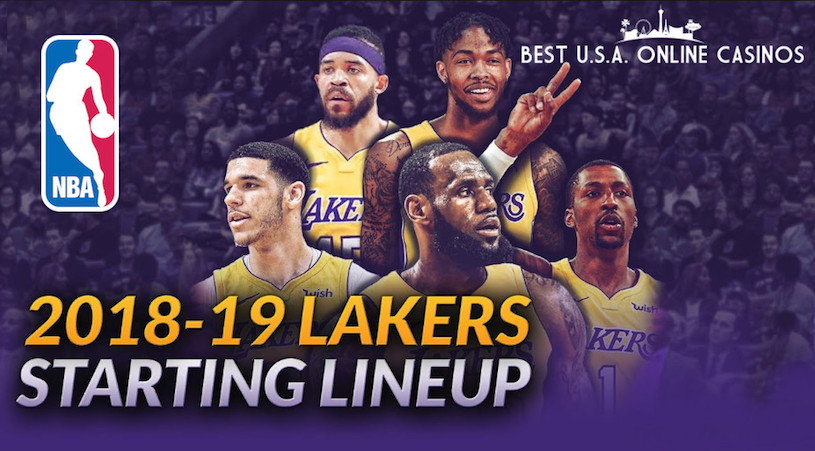 Now that the 2018-19 NBA season has tipped off and is in full effect, let's have a look at the best bets for the Los Angeles Lakers this year and how you can get action down on LeBron James and his teammates. There are tons of online sportsbooks in the U.S.A. but you have to know where to go to get the most value for your money, not to mention be assured that they're going to treat you right throughout the season.
Whether you are a fan of the Lakers or not, you must admit that it's a little strange to see them as the 3rd, 4th, or 5th favorite to win the 2019 NBA Championship, with the MyBookie Sportsbook & Casino having current odds of +1800 for them to do so. Then if you head on over to BetOnline to check out their number for the same thing you'll see that they're only paying +1000 for LeBron and the boys to take it all this year. So what gives?
You have to understand that every decent bookmaker in the world knows that most gamblers bet with emotion and therefore love to bet on their favorite teams. This is why you'll never find juicy lines on teams like the New York Yankees, Boston Red Sox, New England Patriots, and yes, the Los Angeles Lakers – they just have too many fans. Tons of people are going to come through and throw their money down on them anyway so why give these bettors inflated odds to attract them? They're coming to bet no matter what.
Where to Bet on the Los Angeles Lakers
Now that we know that you're not going to find any "sweetheart lines" on the Lakers, we need to determine which sportsbooks are giving you the most value for your money. Well currently it's the aforementioned MyBookie as well as the Bovada Casino who are both offering the same +1800 line for Los Angeles to win it all, so they are the best places to make this wager for now.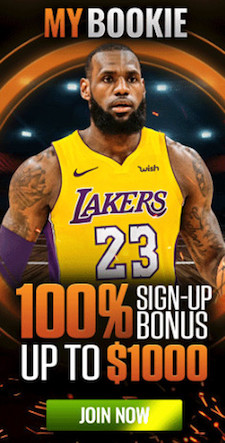 The odds then start to fall with BetDSI paying out +1300, Intertops paying +1200, and then BetOnline coming in with the worst odds at +1000. This is strange because BOL usually has some of the best NFL numbers each Sunday but apparently they're a little more stingy when it comes to pro basketball.
We see a similar pattern when it comes to the current odds on the Los Angeles Lakers to win the Western Conference, with BetOnline paying +800 and Intertops offering the same. Then the renegade books of MyBookie and Bovada agree with each other with a posted line of +1100 for the Lakers to make it to The Finals. The touts at Bovada always make you scratch your head – sometimes they have ridiculously generous lines and other times you can almost smell the fear coming off of their numbers.
When it comes to the season win total for the Lakers there seems to be a general consensus that they're going to finish somewhere just out of the Top 5 in the West, with many places projecting them to win around 50 games. The specific number has hovered around 49 or 49.5 which tells the betting public that the "experts" think that The Lake Show will be a 6, 7, or 8 seed for the playoffs but still manage to battle their way deep into the rounds, (based on their odds to win the 2019 Championship).
Bet on LeBron James to Win the 2018-19 MVP Award
Hoards of giddy Laker fans are dreaming of LeBron James carrying their team to not only the Championship this season, but to also win the 2018-19 NBA Most Valuable Player Award and lift the Maurice Podoloff Trophy high above the heads of those throughout the league who doubted him. LeBron has won this award a total of four times but the last time was in the 2012-13 season as he's watched elite players like Stephen Curry and James Harden pass him in the voting.
Yet again we find that there's only one place you'll want to bet on LeBron to win the MVP award this year and that's at MyBookie, who are currently offering the best odds of +375. Strangely, they have two other players with the exact same odds to win with Giannis Antetokounmpo and Anthony Davis both sitting at that number. The Top 5 is then rounded out by James Harden at +550 and Kawhi Leonard at +600 to transform the always-disappointing Toronto Raptors. The BetDSI Sportsbook & Casino agrees that those 5 players are the favorites but they're only paying +300 for LeBron and +350 for Davis, so it's clear where to go for action on this one.
Things then get silly at BetDSI thanks to their "Odds for each of these players playing for the Lakers on opening night 2019-20", with lines that are sure to attract a few star-struck L.A. fans. They have Anthony Davis sitting at +210 for the "Yes" and -300 for the "No", putting the favorite team to have him as the New Orleans Pelicans. The bookies there also think there's a reasonable chance that Kawhi Leonard will end up in Los Angeles, with a "Yes" paying +365, (probably because he's firmly on the record as wanting to play in L.A. soon). They then have Klay Thompson and Kevin Durant as long-shots to put on the purple and gold, paying +525 and +650 respectively if they do.
For all these great NBA odds and more, head on over to the BetDSI Casino and check out their lines today.
***All odds correct as of October 28, 2018.***