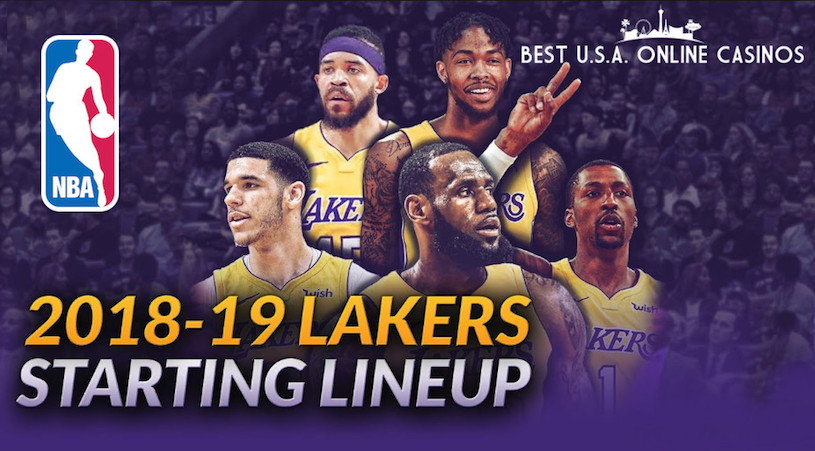 Now that 2018-19 NBA Season has tipped off, it's necessary to look at best bets for the Los Angeles Lakers and how to get down on LeBron James and his teammates. Tons of safe online sportsbooks service the USA but not all provide value, not to mention levels of customer service vary wildly. Every destination is unique, requiring full examination before committing to a decision.
Even Laker fans must admit it's unexpected to see them as 3rd, 4th, or 5th favorites for the 2019 NBA Championship, with thoroughly-reviewed and recommended MyBookie extending +1800. Then over at BetOnline their number for this is merely +1000. So what's the reason?
It's important to understand professional bookmakers know recreational gamblers act with emotion and therefore, love staking their teams. This is why juicy lines are never available for the New York Yankees, Boston Red Sox, New England Patriots, and yes, the L.A. Lakers.  They simply have too many supporters so countless people are going to back them anyway, rendering it moot to give this uneducated crowd inflated odds to attract them. They're definitely coming no matter what.
Where to Bet on Los Angeles Lakers
Now it's clear "fantastic" Lakers odds can't be found, let's determine which websites deliver most value. Well, currently it's aforementioned MyBookie and genuinely honest Bovada, both offering +1800 for Los Angeles to win, dictating action should be placed with them.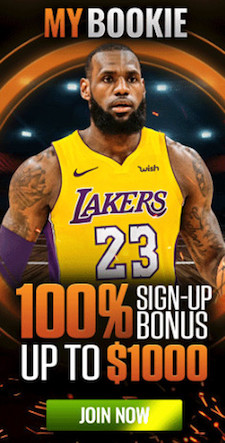 Returns then start to fall via BetDSI hanging +1300, Intertops posting +1200, and BetOnline checking in with worst alternative of +1000. This is peculiar since "BOL" usually extends large NFL gains, but apparently they're a little more stingy when it comes to pro basketball.
Similar patterns are observed regarding taking the Western Conference, BOL paying +800 and Intertops the same, renegades "MB" and Bovada concurring it's +1100. Touts are always head-scratchers as sometimes ridiculously generous lines are dangled while other times you can almost smell the fear coming off their numbers.
Moving to Lakers season win total, general consensus seems to be they'll finish somewhere outside Top 5 in the West, many projecting approximately 50 victories. It's hovered around 49 or 49½ which tells the wagering public "experts" think The Lake Show will be a 6, 7, or 8 playoff seed but still manage to battle deep, based on 2019 Championship predictions.
Bet on LeBron James to Win 2018-19 MVP Award
Hoards of giddy Los Angeles devotees are dreaming of LeBron James not just carrying their team to a Championship this season, but also winning 2018-19 NBA Most Valuable Player and lifting the Maurice Podoloff Trophy high above the heads of those throughout the league who doubted him. He's won this award four times, but the last occasion was 2013, watching elite athletes like Stephen Curry and James Harden ultimately pass him in voting.
Yet again, the sole logical place to bet LeBron to win MVP this year is MyBookie, supplying top odds of +375. Strangely, two others are identical, with Giannis Antetokounmpo and Anthony Davis both +375 too. The Top 5 is rounded out by James Harden (+550) and Kawhi Leonard (+600), assuming the latter can transform consistently-disappointing Toronto. BetDSI frustrates clients by agreeing those 5 are favorites, but only pay +300 for James and +350 for Davis, so it's obvious where to go for this one.
Things then get silly with Each of these players playing for the Lakers on opening night 2019-20, lines sure to entice a few star-struck admirers. Anthony Davis sits at "Yes" +210 and "No" -300, prognosticating New Orleans continues to start him. Oddsmakers additionally believe Kawhi Leonard has a reasonable chance of ending up in L.A. with "Yes" +365, presumably because he's firmly on record as wanting to go there soon. They Klay Thompson and Kevin Durant are listed as long-shots to put on the purple and gold, returning +525 and +650 respectively if doing so.
For all these amazing options and more, read reasons why Intertops is a great NBA sportsbook and remember them next time hard court action is craved.
***All odds correct as of October 28th, 2018.***