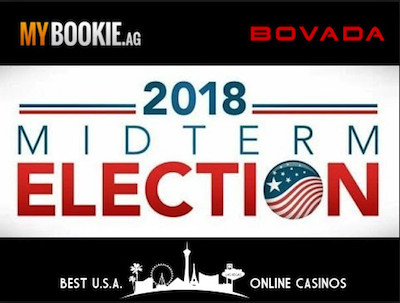 We already know that we can wager on pretty much anything these days, so it shouldn't come as a surprise that we can bet on the 2018 U.S. Midterm Elections next week and back who we think is going to win. The first place to post lines on the event was of course the MyBookie Sportsbook, who are fast becoming known as one of the craziest gambling websites in the industry, led by their maverick Head Trader, David Strauss.
We mention Strauss specifically because shortly after his aggressive interview on Breitbart Radio this past Saturday morning, MyBookie received a flood of wagers on the Democrats to end up controlling the House of Representatives after he bragged that he was actually favoring the Republicans to win, (and he was therefore pricing the Dems like an underdog). The line then swung drastically as the always-bombastic Strauss admitted on air that MB would accept any wager up to $1,000 – and if the polls are correct, this is basically free money for anyone who chose to bet on the Democrats. However, it was these same polls that Strauss claimed led him to treat the Dems as underdogs in the first place: he feels that the polling process is skewed by unemployed people answering landlines and that there's an inherent liberal bias within the questions themselves.
Taking all of that into consideration, MyBookie now has the Democrats and the Republicans both paying -120 to control the House after next Tuesday: perhaps David just can't take his foot off of the gas after his bold proclamations? In any event, you can get action on all of the most hotly-contested senate seats in the 2018 Midterms, like in Delaware with Tom Carper (D) -800 VS. Rob Arlett (R) +500, in Florida with Bill Nelson (D) -120 VS. Rick Scott (R) -120, and in Indiana with Joe Donnelly (D) -125 VS. Mike Braun (R) -105.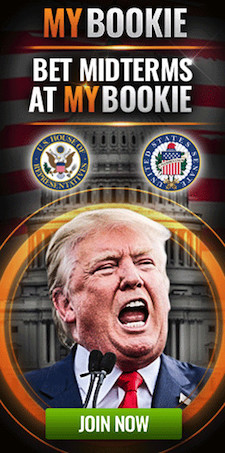 Actually, you can get down on pretty much every senate seat that's up for grabs from Hawaii to Maine, with all of the biggest names on the ballots, including any Independent candidate of note. For example, check out their lines on who will win the seat for Maryland: Ben Cardin (D) -1000, Tony Campbell (R) +600, Arvin Vohra (L) +2000, Neal Simon (I) +2000, and Edward Shlikas (I) +2000. Now that's a crowded field.
Besides the battle for Maryland, adventurous gamblers will be happy to learn that there are three other big underdogs to throw money down on, but they're all definitely long shots to win. There's Marcia Squier (I) in Michigan paying +2000, Japheth Campbell (L) in Missouri paying +2000, and Lawrence Zupan (R) in Vermont paying +2000. The odds on Zupan actually seem a little low when you consider that he's running against Vermont's favorite son, Bernie Sanders.
In fact, MyBookie's bitter rival, the Bovada Sportsbook, didn't even bother posting lines on the Vermont race as they see it as a foregone conclusion that Bernie is winning. However, the always-timid bookmakers at Bovada went a few steps further and didn't list odds for many of the long-shot candidates that MB did, wiping them off the board completely, (and therefore any associated risk). The vanilla betting options continue at Bovada with their odds on the exact outcome of the 2018 Midterm Elections, since they basically just followed the current polls and eggheads experts like Nate Silver. If we wake up on Wednesday to a Democratic House and GOP Senate they're paying out -170, a GOP House and Senate pays +180, a Democratic House and Senate pays +750, and a GOP House and Democratic Senate pays a fat +10000. That last line is actually quite surprising as Bovada rarely exposes themselves to that type of market risk.
If you need a bit of information before placing your wagers, check out this solid synopsis of the U.S. Midterm Elections by CNN, that breaks down what's at stake and how it all works. It's definitely not "fake news" but President Trump probably still wouldn't approve of it due to the source. Regardless, it tells you everything you need to know in plain English.
For everyone else who doesn't need a primer going into Tuesday, November 6th, go read our exclusive review of the MyBookie Sportsbook and decide if you want to throw down some money on their crazy prop wagers. It's pretty fun to bet on U.S. politics – the dirtiest sport out there today…
***All odds correct as of October 31, 2018.***