Since 1937, professional golfers have been teaming up with amateurs to compete in a "best ball" golf tournament spanning three different courses, with pros also playing individually, as well. Those skilled enough to make the final cut will hit the course Sunday at Pebble Beach Golf Links and 2019 is looking to be one of the most competitive weekends yet – and since NFL is finished for another year, it's nice to see some entertainment still options remain.
It's easy to bet on golf at safe USA online sportsbooks as most offer tournaments in Europe, Asia, Australia and beyond, ensuring action on links is available all year round. Therefore, odds for the AT&T Pebble Beach Pro-Am winner are posted, in addition to numbers for the top 5 finishers. However, obviously financial rewards for the latter are less than staking a golfer to win outright. For example, favorite Dustin Johnson is +500 at MyBookie, compared to +150 for a top 5 finish.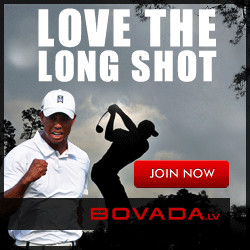 Those backing Mr. Johnson outright should lock in at Bovada because they're known for bigger payouts, this time posting +550. Every penny counts when risking a bankroll which is why it's so important to line shop and there's always value to be found.
Just look at who Bovada Head Bookmaker Pat Morrow then has next: Jason Day (+900), Jordan Spieth (+2000), and a 3-way tie between Patrick Cantlay (+2200), Tommy Fleetwood (+2200), and Tony Finau (+2200). Now check out David Strauss' top picks at MB: Jason Day (+800), Jordan Spieth (+1800), Matt Kuchar (+2000), Tony Finau (+2000), and Tommy Fleetwood (+2200). So after just a quick glance at both we find huge gains for Spieth and Finau, clearly dictating placing those at Bovada.
Pat Morrow's PGA lines look even better further down the list with the likes of Adam Scott (+3000) and Jim Furyk (+15000), but the differences between them are colossal with golfers such as Davis Love III. Bovada has Love +25000 to win, while MB has a jaw-dropping +14000. Surely not many are backing Love this weekend but for those who are, this is a massive value play.
Normally, we would quote Dave Mason's golf odds over at BetOnline well, but this weekend they've only posted a short list so it's not necessary to include them. That said, for anyone wondering, their overall returns are slightly higher than MB's for this event, but nothing close to Morrow's.
So anyone wanting best odds for the 2019 Pebble Beach Pro-Am should go see Patrick and feast on his huge numbers.