Gamblers across the nation have been concentrating on NBA and NHL playoffs over the last month but this weekend there's finally a break with something slightly more "refined". Of course, we're referencing the 145th running of The Kentucky Derby this Saturday for three year old Thoroughbreds, all trying to take a bite out of the $3,000,000 purse.
Since many only put money down on this marquee event, let's examine the best online racebooks for offtrack betting and who deserves to be frequented this year. The formula is simple: it's a mix of who takes Americans, size of enticements, and how quickly winnings are paid.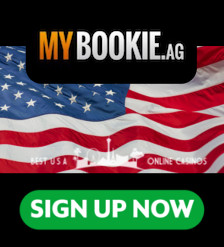 First off, is the "loudest iGaming operation in the business", according to our expert evaluation of MyBookie Sportsbook published quite some time ago. They are constantly posting crazy prop wagers, big bonuses, tons of free bets, and always pay on time and in full. Their numbers are usually quite fair so consider that current 50% signup match up to $1,000, although anyone who keeps reading will start to notice a trend regarding financials.
Next is a destination that has really stepped up their game over the last few years, BetOnline Casino accepting USA players, featuring odds for pretty much every Grade A track in the world, including smaller ones seldom heard of. They're extending their standard 50% welcome match this week up to $1,000, identical to aforementioned MyBookie.
However, if planning on wagering on more races than just The Derby, open an account at quiet yet classy SportsBetting.ag due to their huge selection of both North American and international tracks. They offer the most options by far, as well as a wide selection of exotic staking options. Mirroring above, they're currently giving a 50% Welcome Bonus up to $1,000, so it's obvious each marketing department just looked around and decided to meet their competitors rather than beat them.
Therefore, most will simply want to register with SportsBetting.ag and place action there. Not to mention, they're a smaller book and it's always good to have lots of options come NFL season. As constantly preached throughout the pages of this iMagazine, always take time to shop around to find value plays.
So those are the best offshore sites for 2019 and who to trust with "expert" horse racing picks. At least it's the fastest two minutes in sports so the pain will be over quickly.
***The 145th Kentucky Derby runs on May 4th, 2019, coverage starting on NBC at 2:30pm EST.***