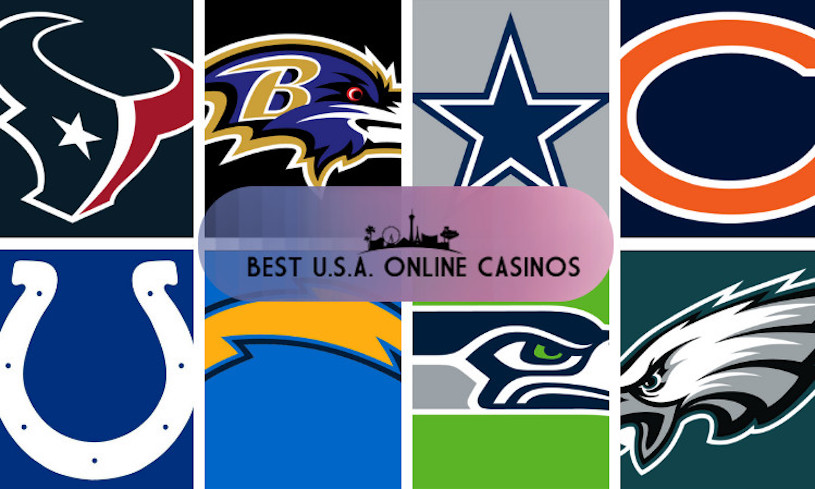 The 2018 NFL Season has concluded its regular schedule and now it's time to finally see elite teams square off against one another on the road to the Super Bowl. Therefore, it's time for another patented gambling guide providing everything needed to know about placing action on Wildcard Weekend.
Things kick off Saturday afternoon with Indianapolis storming into Houston, fresh from thumping Tennessee to punch their ticket into the playoffs. All the best offshore casinos servicing the United States agree it's going to be very tight, with Texans -1 almost everywhere. This makes sense because on paper they're both similar squads with quarterbacks able to march up the field when pressure is on.
Those supporting Andrew Luck's comeback season continuing can get a tiny bit of value at consistently popular BetOnline Sportsbook with Colts +1½ and moneylines of +100. Also, if on the Over, do it there because they have 48 instead of 48.5 or even 49, other places posted.
The night game sees "America's Team" hosting Seattle, with experts again agreeing it's going to be a close matchup and Dallas -1.5 is found across the board. However, if liking the Seahawks, get down at aforementioned BetOnline because an extra half point is available for plucking, MLs also having a little more meat at +120. Anyone predicting Under should read this thorough review of MyBookie games and deposit methods and then visit since they have 43½ instead of 43, negating a "push" if the final score indeed ends at 43.
Moving on to Sunday, a very interesting affair between two franchises enjoying a bit of a resurgence unfolds, with the Chargers getting 2½ going into Baltimore. This will definitely be a fun one to watch but anyone backing Philip Rivers and the Bolts should lock in at "BOL" to grab an extra half point with a spread of 3. If hammering Los Angeles winning outright, swing back on over to "MB" to enjoy moneylines +130. Then depending on which side of the total is desired, either stay at MB and get 42 or bounce back over to BOL and get 41.
The 2019 Wildcard Weekend then wraps up with two iconic franchises battling at Soldier Field with defending Super Bowl Champions not getting much respect from bookmakers, all listing Eagles +6 against resurgent Chicago. This is due to Nick Foles once again orchestrating their playoff campaign so Philly is only going as far as he pushes them, but everyone remembers how that ended up for them last year.
There aren't any deviations from +6 to be found, however, extra value for underdog Philadelphia is realized by betting NFL at MyBookie as +220 instead of +200 is posted. Also, everyone has a total of 41 so no need to shop around for better numbers.
Lastly, anyone who likes sides can check out the current 1st half lines at MB, always hanging competitive odds, definitely being attractive this weekend. Good luck and enjoy the gridiron gladiators.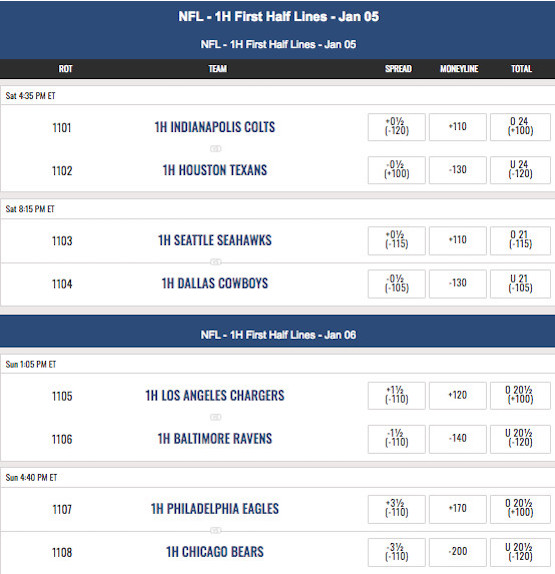 Where to Watch Wildcard Weekend Games (all times EST)
Saturday, January 5, 2019
4:30pm: Indianapolis Colts @ Houston Texans on ABC
8:15pm: Seattle Seahawks @ Dallas Cowboys on FOX
Sunday, January 6th, 2019
1:05pm: L.A. Chargers @ Baltimore Ravens on CBS
4:40pm: Philadelphia Eagles @ Chicago Bears on NBC
***All odds correct as of January 3, 2018.***