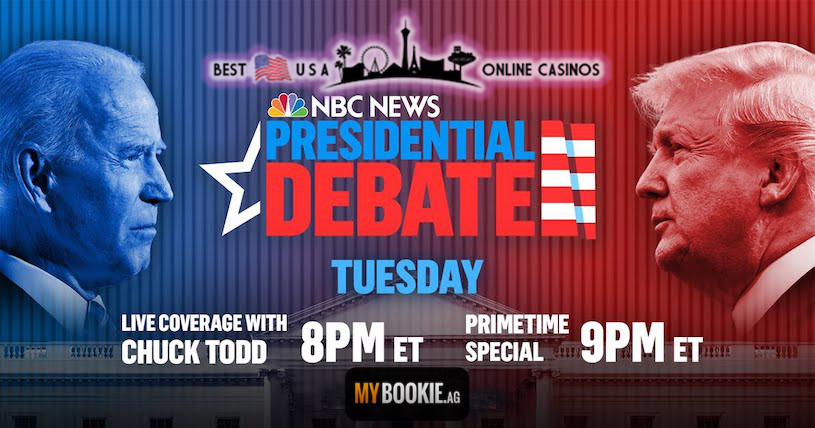 Nobody would argue that 2020 wasn't the craziest year in modern history, yet it even has (at least) two more shocking events to come. Election Day in the United States is on November 3rd, however, one last presidential debate is being held tomorrow evening at Belmont University in Curb Event Center, giving candidates Donald Trump and Joe Biden one more chance to win over voters.
Anyone familiar with this objective MyBookie review understands the lengths they go to for coverage in trusted iPublications such as this, conducting bizarre campaigns to garner attention. Public relations stunts are commonplace for them, as Head Oddsmaker David Strauss is always thirsty to turn heads and make headlines. Now they've launched a long list of debate props for the Nashville event and some betting options are truly astounding.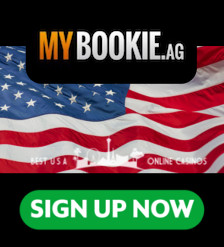 As per usual, fashion choices prove popular such as What color will Joe Biden's tie be? with Blue/Light Blue/Navy Blue (-150), Red/Purple (+175), or Black/White/Grey (+225) listed, in addition to Style of tie? choices of Stripped or Spotted (-190) and Solid Color (+145). Identical questions are posed for Trump with odds on Red/Purple (-220), Blue/Light Blue/Navy Blue (+250), Black/White/Grey (+400), Stripped or Spotted (+145), and Solid Color (-190).
In regards to what's actually said, numerous groupings of words and phrases are compiled offering payouts on Racism (+175), Police (+200), Violence (+225), Protest (+400), and Riot (+400) completing the civil unrest section. Then Russia (+125), Ukraine (+125), Putin (+300), ISIS (+500), and ANTIFA (+500) takes care of international politics. Stranger possibilities are Weak (+200), Clown (+225), 47 Years (+400), and Sleepy Joe (+170), with numbers signalling Strauss believes the dialogue will probably get nasty.
As COVID-19 promises to feature heavily throughout the sparring, it's also possible to bet on whether or not Biden wears a mask on stage at any time (Yes -150 / No -135), along with Over/Under on instances of Coronavirus said by Trump (2.5) or Biden (1.5). Other totals involving number of times something is said are Vaccine (7.5), Stimulus (2.5), Relief (2.5), Economy (10.5), and Russia (3.5), each prognosticated to be thoroughly discussed.
Many were outraged the Commission on Presidential Debates was planning on muting the microphones of candidates when it wasn't their turn to speak, obviously enraging Trump since his style of constantly interrupting has become his trademark. Therefore, don't be in a rush for wagers on language to be resolved since MyBookie clearly states that All debate props will be settled according to the official transcript published afterwards, meaning they could take a few days to grade.
To get warmed up for the fireworks tomorrow night, here's a video from CNN running down the best U.S. presidential debate moments of all time, highlighting pivotal moments in unforgettable campaigns.
*The last presidential debate begins at 9pm ET on October 22nd, 2020, hosted by NBC.*