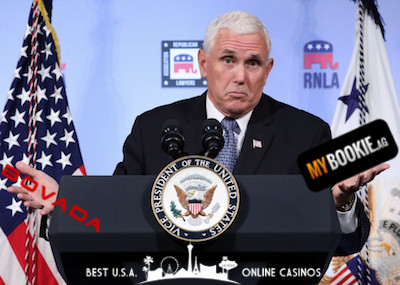 By now everyone's heard of the gutless writer who penned a damning New York Times Op Ed about President Trump and how senior officials are collaborating to ensure he can't do a lot of damage to the country while in office. It's barely been 24 hours since news broke, but accusations and denials are flying around Washington as fingers are being pointed in an attempt to find out who wrote it.
The scandal is in the headlines so it should come as no surprise bets can be placed at many U.S. online casinos, with various opinions on who really spilled the beans. Although, it's certainly frustrating to make a wager that might never be settled and therefore ruled a "push", it's still fun to put a few bucks down on political backstabbing and what the future holds for The White House.
Two sportsbooks posting lines on the op ed author were of course Bovada and MyBookie, as neither have ever shied away from a good public relations opportunity, nothing better than elbowing your way into some free news article mentions (like this one). The offshore entities agree the favorite for traitor is Vice President, Mike Pence, but numbers are divergent. Cagey "MB" seems pretty convinced it's him with a line of -150, while Bovada pays more at +300. Anyone looking to stake Pence as part of the resistance should obviously go straight to the latter for higher odds.
After Pence, there's no clear consensus and books disagree about runners up. David Strauss at MyBookie thinks it could be Betsy Devos (+200), Mike Pompeo (+400), or Steven Mnuchin (+400), while competitor Pat Morrow is leaning towards Jeff Sessions (+325), John Kelly (+450), and James Mattis (+700) as likely culprits. When comparing options strictly based on "entertainment value", the edge is given to Bovada Sportsbook because they put Donald Trump himself as the mole at +2,500, which is actually quite plausible.
Tons of other political props are listed at both places, so if finding questions such as this interesting, check them out for added laughs.
For those interested, here is the full list of Strauss' odds on who will ultimately be outed as author of the N.Y. Times piece:
MIKE PENCE   -150
BETSY DEVOS   +200
MIKE POMPEO   +400
STEVEN MNUCHIN   +400
JOHN F KELLY   +400
JIM MATTIS   +500
JEFF SESSIONS   +500
RYAN ZINKE   +600
SONNY PERDUE   +600
WILBER ROSS   +700
ALEX ACOSTA   +700
ALEX AZAR   +800
BEN CARSON   +800
ROBERT WILKIE   +800
KIRSTJEN NIELSEN   +1000
IVANKA TRUMP   +1200
JARED KUSHNER   +1200
STEPHEN MILLER   +1500
FIELD -310
***All odds correct as of September 6, 2018.***