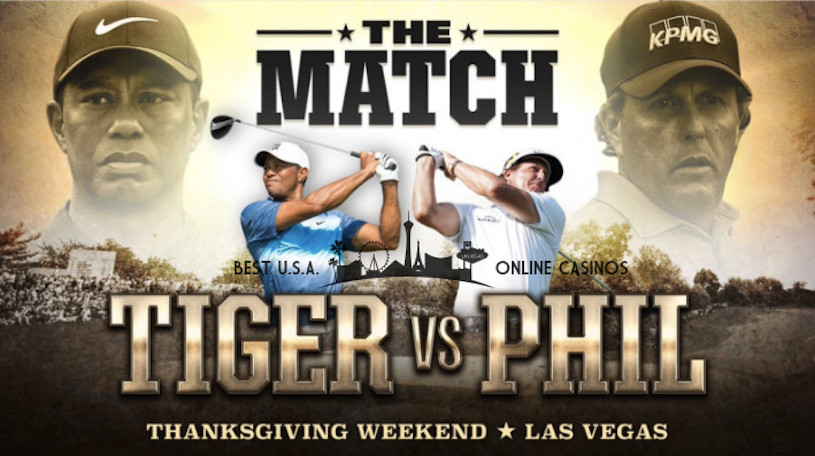 Today history will be made as Tiger Woods goes head to head with Phil Mickelson in The Showdown at Shadow Creek, with a massive $9 million pay day going to the winner. Both of these legendary professional golfers are on record that there will be tons of side bets between the two of them, unedited dialogue (that will probably be laced with profanity), and an unprecedented glimpse into what we normally miss when network television goes to a commercial break during tournaments.
So now gamblers across America want to know where they can bet on Tiger VS. Phil and get in on the fun action. Well, three of the best USA online sportsbooks are offering lines on today's battle so you definitely have some options available to you.
First is the Intertops Sportsbook who is offering lines on everything from "Who will lead after 9 holes?" Tiger (-120) Phil (+190) Tie (+400), to "Who will take the lead first?" with Tiger at -140 and Phil at +110. They have Tiger as the strong favorite to win the match at -230 and put Phil at +175. These guys were actually the first gambling website in America and are one of the most trusted in the business so they're worth a look if you haven't visited them before.
Next we have Bovada who's parent company, Bodog, has been in business for over 20 years and are veterans in the gambling industry. Today they're offering a bunch of spreads on the action with some very juicy money lines available:
Woods by 2 or more -110
Woods by 3 or more +175
Woods by 4 or more +350
Woods by 5 or more +800
Mickelson by 3 or more +450
Mickelson by 4 or more +800
Mickelson by 5 or more +2000
You can even bet on whether or not there will be a Hole-in-One (Yes +4000), will either of them get an Eagle (Tiger +350, Phil +500), and whether or not they'll hit a water hazard (Yes +175). There are a ton more wagers on offer so go visit the Bovada Sportsbook if you want to see their full list of props for the day.
Finally, we have David Strauss and his motley crew over at MyBookie, who of course have posted some ridiculous bets for "The Match". For example, "Will Tiger hit the fairway on the 1st hole?" pays -220 for the "Yes" and +160 for the "No", as well as, "Who will win the most cash on side bets?" with Tiger and Phil both at -120, and even "Will the match get closed out before the 16th hole?" with the "Yes" being the surprise favorite at -130.
These gambling renegades even have a posted prop wager on "How many times will Tiger say "F*@%" in the match?" with the over / under set at 4.5. So if you want to get in on crazy bets like this for Tiger VS. Phil, head on over to the MyBookie Sportsbook & Casino and sign up for an account now.
Tiger VS. Phil tees off at 3pm EST today and can be seen online via Pay-Per-View.