We've all been suffering from gambling withdrawal since the Toronto Raptors took home the Larry O'Brien trophy last month but thankfully there's a great fight night to bet on this weekend that should give us the action we've been starving for. The main event is a highly-anticipated lightweight championship match between Jon Jones and challenger Thiago Santos and as always, we're only going to highlight the best online sportsbooks for players living in the USA so if you don't see them listed here, you might be at a shady website and you're playing at your own risk.
Now there are two things to look at for tonight: who has the best odds and who has the biggest bonuses. Starting with odds, if you think that Santos can pull the upset over Jones you'll want to lay money down at the MyBookie Sportsbook since they're offering +450 on him instead of the +425 that everyone else has posted. It always pays to shop around before you lock in your bets because smart gamblers know that you can save tons of money over your lifetime if you take that extra step. If you're backing Jones you'll see that the unanimous number is -650, but you can find the best value if you read our review of SportsBetting.ag and then go there since they have him at -570, giving you a better number for your trouble.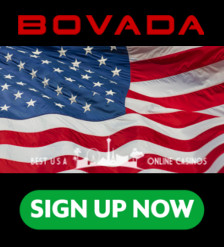 The next most anticipated fight of the night is Holly Holm vs. Amanda Nunes and if you're backing the underdog in this match prepare to be surprised. Why? Well, because the usually timid Pat Morrow (head bookmaker at Bovada) who has long made a name for himself by posting safe lines that neither titillate players nor open himself up to exposure has the best odds for Holm at +325. We highly recommend jumping all over this one so you can tell your friends that you actually bet one of Morrow's underdog lines once (they should be quite impressed).
All jokes aside, after those two bouts there's really no difference in the posted odds for the other fights on the card so let's just go right into who has the best deposit bonuses available for this weekend. As always, it comes down to two things: the amount you want to transfer and the method by which you want to do it. If you want to fund your account with $200 or less by the traditional options of VISA or MasterCard, just go open an account at the Bovada Sportsbook and grab their current welcome offer of a 100% match up to $200.
However, if you want to transfer more than that and you're familiar with cryptocurrency, go sign up with SportsBetting.ag and take advantage of their awesome 100% match bonus up to $1,000 if you use Bitcoin, DASH, Litecoin, or Ethereum. This is by far one of the best offers you'll find today so make sure you cash in on it before they pull it down.