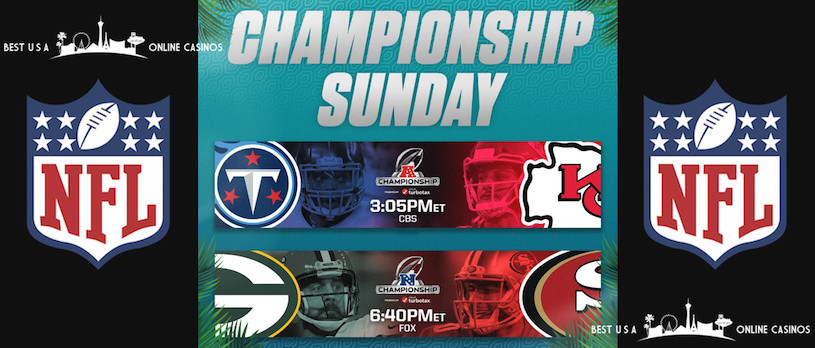 With only three NFL games left in the 2019/2020 season, gamblers across the nation are slowly coming to terms with the fun almost being over, soon time to turn attention elsewhere. That's not to say there's anything wrong with getting down on basketball or hockey, however, the consensus is professional football is most exciting of all. So since many will be placing a large amount of action this weekend to "get their fix", here's where to find the biggest sportsbook deposit bonuses and who's stretching out bankrolls.
Everyone likes having choices and luckily four unique destinations have solid offers for wagering on Titans vs. Chiefs in the AFC Championship and Packers vs. 49ers for the NFC crown. The sad news is there aren't any massive specials to take advantage of because the truth is that most best USA online casinos hold back a bit in preparation for Super Bowl promotions since it's the most popular annual event. That said, some easy ways to have free money added to accounts for Sunday certainly exist.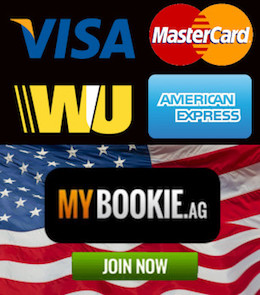 First up is excellent BetOnline continuing to extend a 50% match up to $1,000 to new members, obviously meaning $2,000 must be transferred to get maximum amounts. However, those moving large sums should opt for cryptocurrency for a bigger bonus of a 100% match up to $1,000, saving a cool grand in the process. This is available for everything listed including Bitcoin, Litecoin, Ethereum, and Ripple, winnings arriving with a 14x rollover requirement instead of 10x.
Next is fresh face SportsBetting.ag offering identical numbers as above, with indistinguishable terms and conditions. Hopefully, their marketing department gets more imaginative sometime in 2020, but for now they appear to be copycats. Speaking of "clones", the Bodog twin known as "Bovada" has a 50% match as well, but only up to a max of $250, which obviously isn't going to pad balances nearly as much as competitors.
Finally, we arrive at perpetually top-rated MyBookie posting similar first-time incentives of 50% matches to welcome newbies aboard. However, their crypto bonus is much better since it's a 100% deposit match up to $1,000, but funds only require a 10x rollover before withdrawn in a payout. Therefore, anyone hoping to keep NFL business private and get more bang for buck should register there and never look back.
The games tomorrow should be fantastic as many observers feel final results will be a lot closer than current odds suggest. The Tennessee Titans went on the road and dismantled the best team in the league last week, yet they're only getting 7½ facing off against Kansas City at Arrowhead Stadium (3:05pm ET). The Chiefs went down 24-0 last Sunday to a "slightly above average" Texans squad before storming back to win 51-31 and pulling off a comeback for the ages. Expect the Titans to be a lot more aggressive if achieving an early lead tomorrow.
Then the always-dangerous Green Bay Packers also received a line of 7½ marching into San Francisco (6:40pm ET), even though Aaron Rodgers and company held off a strong Seahawks team in the Divisional Round while the Niners simply pistol-whipped the limp, uninspired Vikings. Sure Jimmy Garoppolo is healthy and surrounded by weapons but this one seems destined to be a battle right up to the final drive. These spreads seem a little strange but no one knows what will ultimately come to pass, hence the joys of gambling on pro football.
As always, may the Double Doinks fall your way – Super Bowl LIV is only two weeks away.
To get the ball rolling on picks, here's a video of a few ex-players stating who will win on Sunday…