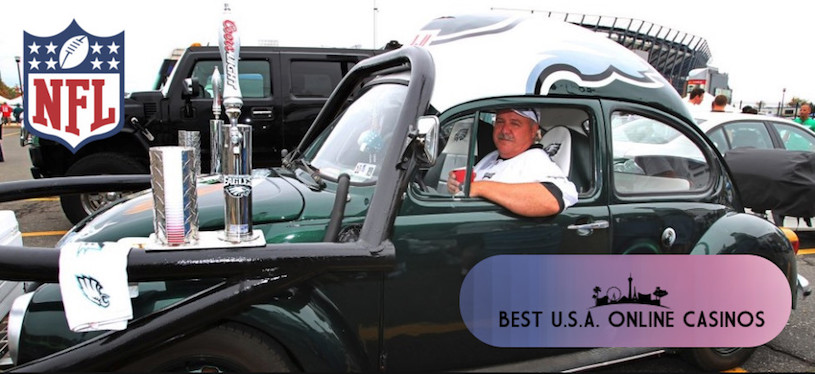 Well it looks like the bookies are a little scared this week after all of those NFL underdogs jumped up and won (or covered) in Week 10. The current gambling lines are fluctuating from place to place and you can get money down on different spreads across multiple books so you have to know who's offering the best numbers to bet on. Sadly however, there aren't any numbers as big as last weekend's and those of you who like to have fun betting on parlays are going to see much smaller potential payouts.
To be fair, the smaller spreads aren't just a result of the bookies being timid, the fact that the Bills, Browns, Jets, and 49ers are on a Bye Week certainly has something to do with it. That's a whopping four punching bags who aren't going to get beat on this week.
So who are the biggest Underdogs for Week 11? Well, it's none other than the Super Bowl Champion Philadelphia Eagles, who are a massive 8½ point Dogs going into New Orleans on Sunday according to BetOnline. This would have been unthinkable at the start of the season but it looks like the wheels are falling off of Philly – at least fans have their love of binge drinking at games to fall back on.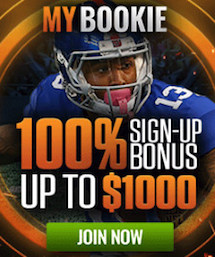 We all know how valuable a ½ point can be when betting on NFL spreads, so just think about how valuable one and a half points are. Yup, you read that correctly and loyal readers of this website will already know where that line is at. The mavericks over at the MyBookie Sportsbook and Casino are blazing their own trails again this week and have the Eagles currently posted at +10! So if you plan on betting this Dog on Sunday you know the only place you'll want to go.
The battle of MyBookie VS. BetOnline continues in the matchup between the Pittsburgh Steelers and Jacksonville Jaguars, with the two books once again disagreeing in a very big way on what the line should be. BOL has the spread currently at +5 for the Jags, however, David Strauss and his crew have the number at a meaty +6½, so those who like to wager on home Dogs again can see where the biggest bone is buried.
The only other big spread for this weekend is in the Broncos / Chargers game, with Denver getting 7 points at most U.S. sportsbooks. Since this is a divisional game and San Diego Los Angeles always take a nap at some point in the season, laying down a few bucks on the Broncos might not be a bad bet this week. Again, head over to MyBookie if you want to get an extra half point on this Dog.
For those of you who like to bet on the favorites, go check out the NFL wagers at the BetOnline Sporstsbook and get in on their player-friendly lines. Here are the rest of their current odds and numbers for Week 11: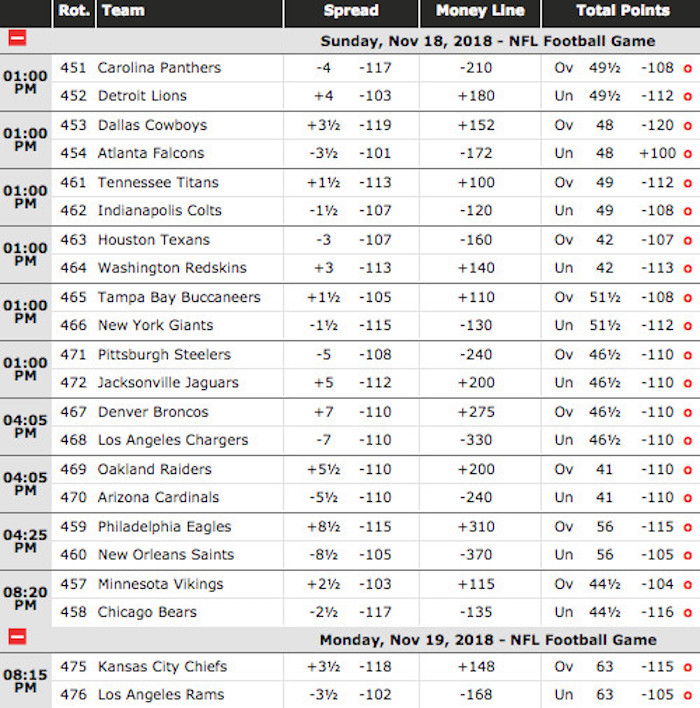 ***All odds correct as of November 16, 2018***