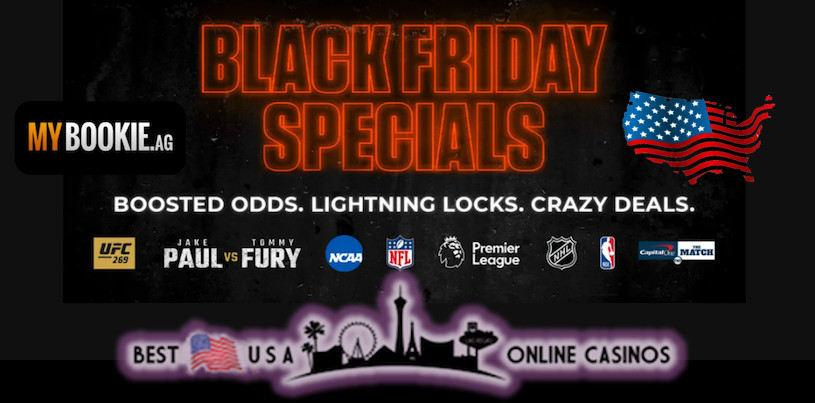 It's totally unsurprising that law abiding and licensed MyBookie Sportsbook has announced the 3rd instalment of their highly anticipated, annual Thanksgiving Weekend betting bonanza. The extremely popular Black Friday Specials promotion extends odds boosters for multiple sports, allowing members to reap extra gains simply for being an active customer.
Seven unique offerings for events transpiring over the next few weeks hold increased payouts covering soccer, UFC 269, NFL, NCAAF, and even the Paul vs. Fury boxing match that promises to be an outlandish spectacle regardless of whose hand is ultimately raised. Terms are straightforward as each holds a line adjustment drastically skewed in favor of patrons instead of the house, those selecting correct outcomes winning more money than normal, leading to fatter wallets heading into the Christmas season.

Action may be placed anytime on Friday, but unfortunately boosts only apply to a maximum of $25 each, which is still fantastic value considering the possible inflated returns. An additional regulation of note is anything below cannot be parlayed and must be entered as individual wagers unconnected to other results.
Also throughout the day, numerous locks will be presented to logged in clients that are guaranteed not to lose, basically gifting gratis balance bumps just for throwing down. These usually comprise items such as ridiculously low totals or spreads, with only one side able to be staked, ensuring victory for everyone involved.
The excellent player-friendly odds disappear from their virtual banquet table promptly at midnight on November 26th, 2021, so visit objectively evaluated MyBookie pronto to take advantage of these juiced up numbers.
| Black Friday Specials – Available All Day | Date | Time | Boost |
| --- | --- | --- | --- |
| Boxing: Jake Paul vs. Tommy Fury | Dec 18th | 9:00 PM ET | Will Either Fighter Bleed? |
| UFC 269: Oliveira vs. Poirier | Dec 11th | 10:00 PM ET | No Juice Moneyline |
| NCAAF: Alabama vs. Auburn | Nov 27th | 3:30 PM ET | 6-Point Spread Boost (Auburn) |
| NFL: Rams vs. Packers | Nov 28th | 4:25 PM ET | Rodgers & Stafford to Each Throw 250+ Yards |
| NCAAF: Ohio State vs. Michigan | Nov 27th | 12:00 PM ET | 7-Point Total Boost (Over) |
| NFL: Browns vs. Ravens | Nov 28th | 8:20 PM ET | 7-Point Total Boost (Over) |
| Soccer: Chelsea vs. Man United | Nov 28th | 11:30 AM ET | No Juice Moneyline |