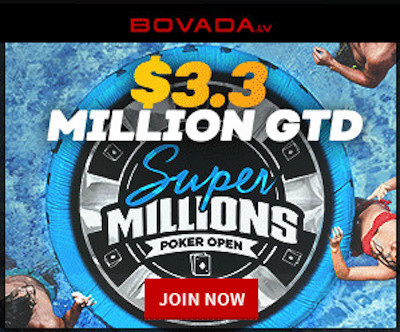 Twenty years before the lazy casinos in New Jersey ever thought about coming online, Bovada was hosting poker tournaments participated in by millions of Americans across the country. They were pioneers in the industry and they're still making waves today after announcing their plans to host hundreds of Monster Stack tournaments between September 4th and October 4th, and this is something that neither professional nor novice poker players are going to want to miss.
There's total cash prizes of $3.3 million guaranteed during the 30 day extravaganza which is going to be changing a lot of lucky people's lives for the better. There's really not a better way to practice for the World Series of Poker than mixing it up with other hungry players from around the country, so even in losing there is victory.
The fun kicks off on September 3rd with their Mad Monday $75k Guaranteed Main Event that has an entry fee of $250 + $20. If that's too rich for your blood you can get in on any number of smaller buy-in tourneys during the day that also have big guaranteed prizes, with new tournaments starting every hour throughout the day. Monday used to be known as the "worst day of the week" but thanks to Bovada there's actually a reason not to hate it anymore.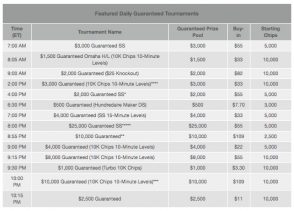 Veteran players living in the USA will remember their $100K Guaranteed tournament that's been running every Sunday since the dawn of time, giving the winner a minimum of $17,000 in chips to chew on. The normal buy-in amount is $162 but they run satellite games that enable winners to get in for less, just like their Mad Monday tourney, with the smallest buy-in amount being $1. Anyone looking for an easier way in will find tons of other qualifiers ranging from $7 to $40, allowing you to pick whichever amount you're comfortable with.
If you end up busting out you can still have fun there since they have tons of other tourneys that are catered to bankrolls of all sizes, so everyone can get in on some action. Whatever your budget, you'll find a game that suits you there.
So head on over to the Bovada Poker Room today and sign up for a free account to get access to hundreds of cash tables and tons of daily guaranteed tournaments – it might just be your turn to cash in.