Many people across the country are always looking for trustworthy U.S. online poker rooms to play at, often forgetting that one of the best has been in business for over 20 years. Sure they've changed their name a few times, but it's still the same people behind the scenes ensuring that the player always comes first. Now they're hosting a huge series over the next four months that'll give away hundreds of thousands in prizes.
That's right, we're talking about the Bovada Sportsbook & Casino who've been in business since 1994 and have literally millions of clients registered to their website. Earlier this month they announced their Monster Stack Tournaments series that will have daily tourneys running until July 19, 2019 that are targeted towards those who love playing with a tall stack of chips in front of them.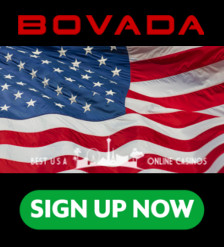 The schedule is easy to remember: there are three tournaments each and every day at 7am, 7pm, and 7:30pm EST, with the morning one being a $25 + $2.50 qualifier for the night event and you can even get in on that one via a $2 satellite. If you don't get a seat then you can simply buy your way into the Guaranteed Tournament at 7:30 for $150 + $12 to take a shot at the $20k to $40k prize pool. Every day the guaranteed prize and the number of chips changes so make sure to check the details of each before joining.
Besides this massive series of Deep Stacks, there's also the Bovada $100k Guaranteed Tournament that runs every Sunday, which is actually one of the longest standing online events out there today. You can buy into it directly for $162 + $16 or qualify through one of the many satellites throughout the week. There are also many other guaranteed events to choose from in addition to hundreds of 24/7 cash tables with stakes ranging from "micro" to "high roller" so there's a little something for everyone there.
So if you live in the USA and want to hit the virtual felt, you'll definitely want to sign up at the Bovada Poker Room and check out the great action there. Their entire schedule is available without logging in and all of the events are clearly posted and easy to sort through.