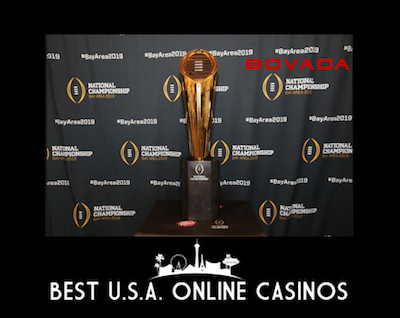 Campuses across America are buzzing with students going back to school, chatty professors, and teams working hard to win the 2019 NCAA College Football Championship to earn lifelong glory. However, the only people working harder in the country at the moment are professional gamblers doing research in hopes of picking the eventual victors. So let's examine current odds at USA online casinos to learn who they think is in contention.
It should come as no surprise the Alabama Crimson Tide are heavy favorites to repeat this year and hoist the trophy once again. Highest payouts for this are presently found at well-established Intertops Sportsbook with +225, while Bovada hung +220 and MyBookie extends a miserly +170. So anyone wanting to wager on Nick Saban's squad repeating only has one place to go (for now).
The three sites also agree on runners up, the Clemson Tigers being everyone's 2019 bridesmaid. Again Intertops gives best value for dollar with +600, Bovada has +400, and "MB" offers the smallest number of +350. There must be something in the drinking water at the MB Costa Rican offices because they additionally boast the worst lines for unanimous 3rd choice, Ohio State Buckeyes. They list +550 while the other two agree on +750.
The sole possible profit from staking NCAAF futures at MyBookie is via ridiculous long shots like the Nevada Wolf Pack to win at +300000, potentially enabling $3,000 off of a buck. Don't forget to look at North Carolina Tar Heels and Maryland Terrapins, both sitting at +160000.
Actually, perhaps a better option for Maryland exists thanks to their College Football Specials and Which school will be the next fined by the NCAA?. The Terrapins are current favorites at +250 to earn the honor.
To check out more ridiculous CFB futures involving swearing, mullets, and impending scandals, visit the prestigious MyBookie sports betting site today to see what's posted. You're guaranteed to crack a smile or at least shake your head.
***All odds correct as of August 29, 2018.***