Now that professional football is in the rearview mirror, many recreational bettors are craving excitement and are willing to get down on almost anything for a kick. Well, it's good that professional oddsmakers have excellent imaginations because now a few more events besides NBA or NHL can be staked. In fact, one could argue American politics is crazier than any sport (even rugby) and this year's race for the Oval Office will be one of the "bloodiest" affairs in recent decades.
The clear favorite to win the 2020 presidential election at top USA offshore sportsbooks is Donald Trump, currently receiving a line of anywhere between -150 and -350 as they fluctuate. The second favorite is Bernie Sanders, again with unanimous support from expert linesmakers, with most reputable destinations putting him at +350, a fairly small number considering his views are labelled as "extreme" by many. The Top 3 then finishes off with Michael Bloomberg presently at +450 to +600, depending on the day's news as he rolls along the campaign trail.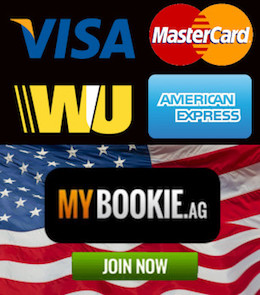 Further down the list there is some great value to be found, specifically at one daring site who always goes a little nutty with their numbers. Anyone familiar with our expert in-depth review of MyBookie Casino will have already guessed it's them who've "gone rogue" with their props as they're always trying to get mentioned in the media. This is primarily due to Lines Manager, David Strauss who's borderline insane when it comes to posting pumped up odds, challenging players to get over on him.
A few dark horses to become POTUS worthy of a look at MyBookie are Pete Buttigieg (+2000), Amy Klobuchar (+4000), and Elizabeth Warren (+8000), who just might surprise a few people as campaigns unfold. Anyone backing long shots should check out Michelle Obama (+15000), Tulsi Gabbard (+15000), or Tim Kaine (+30000), all of whom would yield massive profits if they actually came in. You can even bet on Hillary Clinton (+6600) coming back from the dead and taking out Donald Trump in Round #2, which would obviously be one of the most shocking stories of the century.
Technically, there's no guarantee Trump will be the Republican nominee again (even though it seems 99% decided), so Strauss has other popular GOP members to choose from as well. Notable politicians listed are Mike Pence (+15000), Jeb Bush (+25000), John Kasich (+25000), and Mitt Romney (+25000), in case any of them launches a maverick bid for The White House this year.
You can even wager on familiar names from the 2016 race with Little Marco Rubio (+30000) and Lyin' Ted Cruz (+30000) available to anyone thinking they might have been planning a comeback to take on Your Favorite President and avenge their previous loss. To check out the full list of possibilities visit certifiably legitimate MyBookie today and throw down a few bucks on a candidate to have something to cheer for as the race heats up.
Time to bring on the attack ads and mudslinging!