UPDATE: Due to overwhelming response they have increased the prize amount to $225,000.
There's always lots of activity over at the MyBookie Sportsbook & Casino no matter what time of year it is and they're really ramping things up for the start of the NFL season. It began last week with the launch of their brand new website with an updated design that generated feedback ranging from "I guess it's ok," to "I'm not seeing what's different." Just kidding, guys – it certainly looks cleaner.
Anyway, it now appears as if the MyBookie SuperContest is going to be a huge event for 2019 as it aims to find the greatest professional football handicapper in the United States. Well, technically the top 100 cappers get paid at the end but the lion's share of the $150,000 prize will obviously go to whoever sits a top the leaderboard in January. How much do they get exactly? More than enough: $100,000 in cold, hard cash.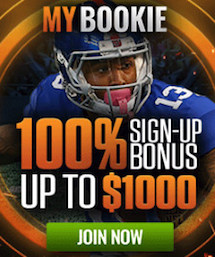 The rules are straightforward with contestants required to pick 5 NFL games each week against the spread and are awarded points based on their success. Every victory issues one point and a push will add a half point to the total, with the SuperContest rolling from Week 1 straight through until Week 17.
Then at its conclusion the best 100 cappers will share in the money and be crowned as the wisest prognosticators in America…oh ok, let's not get too crazy here, they'll simply have a bigger bankroll to throw away on the 2020 playoffs. Well actually, if they're good enough to finish that high on the leaderboard there's a decent chance they'll keep rolling right to the Super Bowl.
To participate in this gridiron battle simply register at MyBookie now and create your personal profile to get up and running. Don't wait to do it until the last minute because you should give yourself some time to fund the account and decide how many entries to buy. Each one is $100 but the entire pool is being split up among players and MB aren't even taking anything off the top for hosting it. Such gentlemen.
All that has to be done each week is login to your account, tap "MyEntries", then "Make Picks" on each entry, and choose who to back on Sunday ATS – then cross your fingers. Decisions can be changed right up until kickoff but they obviously lock as soon as it starts and goes off the board. When Tuesday morning rolls around just log back in to check the leaderboard and see where you're at (crying tears of pain is optional).
People love these contests but they're not always accessible, said sportsbook manager Ryan Coleman during the press conference to announce the new promo. He then confirmed the company's benevolence with a final boast of, We've made entering our SuperContest accessible with a relatively low entry fee and our website allows you to make your picks no matter where you are. Fair enough, Ryan.
There's a firm deadline for registering in the SuperContest and everything has to be completed by 7:10pm EST on Monday, September 9, 2019. Although, this means that you will have missed out on 3 chances to potentially earn points since there will only be the two Monday Night Football games left to pick, so make sure to finish signing up way before then.
To get you in the mood for pigskin, here are the early lines at MB for Week 1 of NFL…it's time to hit the books again, kids. Happy handicapping!