As if Americans from coast to coast didn't have enough incentive to gamble at NFL sportsbooks this weekend, one familiar destination has just announced yet another reason to get down on Sunday's tilts. There's already been tons of activity since the NFC Championship participants were decided, as historic rivals Green Bay and San Francisco will battle it out at Levi's Stadium to determine who will represent the conference at Super Bowl LIV on February 2nd in Miami. Oh, the AFC Championship looks to be "fairly decent" as well with the red hot Titans taking on the Chiefs at Arrowhead, in what should be a very entertaining match up.
Now it's possible to wager on both games risk-free thanks to fully-reviewed and accredited Intertops, who also happen to be the oldest betting site in the world. Sure this claim is extremely hard to prove and one wonders what exactly they "established in 1983", but none of that matters because reader-feedback on them has been stellar. They have a solid industry reputation and post weekly promotions to keep members constantly entertained.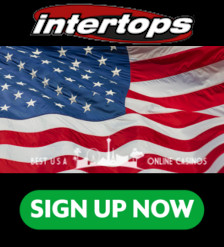 So tomorrow's excitement arrives in the form of players getting a refund for losing spreads and totals placed on the 1st quarter if Derrick Henry and Patrick Mahomes gain 500 accumulative yards from scrimmage. It's a bit of a long-shot but if it comes to pass all 1st quarter action will be returned in the form of free bets, with amounts being based on original stakes. Anything between $25 and $49.99 will earn $25 and $50 or more will qualify for $50, with unique redemption codes being sent out on Monday.
The next opportunity for gratis cash is during [email protected] if you lose a "First Touchdown Scorer" wager but the player then goes on to notch the 2nd TD of the evening. This proposition seems a little friendlier than the first and veteran punters will probably be able to stretch some value out of it. Reliable performers such as George Kittle, Tevin Coleman, Jimmy Graham or Davante Adams are all excellent contenders for this particular prop so there are lots of great options available.
So anyone wanting to bet on NFL Conference Championships and maybe grab a lucrative online casino bonus in the process should go visit Intertops now and get themselves set up with a new account. With only 3 pro football games left this year, we'll be taking all that we can get.