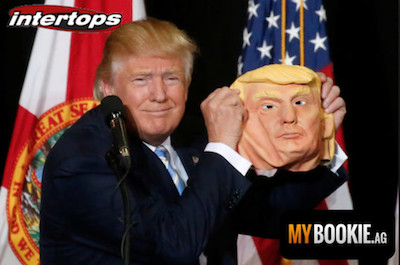 Love him or hate him, it has to be agreed Donald Trump deserves the constant attention he gets and now it's possible to put money down on what his future holds. Betting on politics has been around for a few years but thanks to the hard work of safe and secure USA online casinos, more options are currently available than ever before, ensuring a bit of action regardless of personal prognosticating tastes.
First up is A+ Rated MyBookie Sportsbook who's Head Trader, David Strauss, is a known supporter and advocate of Making America Great Again, (perhaps just to gain Twitter followers, though). Their list of Trump Specials starts with tantalizing +300 odds he'll get impeached before the 2020 election, "No" extending a terrible payout of -500. Sad!
Those wanting less-specific options covering assassination, resignation, or death by fast food, should head over to Intertops and get in on a simple, Trump NOT to finish his 1st term as president? prop. This covers any reason he may not complete his four years in office, awarding a very reasonable +150 if it hits.
Then things get really interesting for sharp professionals since Intertops bookmakers think the chances of Trump being reelected in 2020 aren't too good with a "No" of -250. Why is that so compelling? Well, because it's feasible to stake that and then immediately go arbitrage it at MyBookie who's offering -175 on "Yes", again presumably to satisfy their Lines Manager's inflated ego.
They dive even deeper into POTUS' via odds on Donald and Melania Trump divorcing, with Yes, after his presidency set at -140, while Yes, during his presidency yields +600. It looks like "experts" believe he can hold his marriage together for a little longer to ensure he has a date for state dinners and/or to hush his rabid critics.
If craving additional political propositions, wager on Sean Hannity leaving Fox News, quitting paying +300 and a firing issuing +400. Sadly, the "No" for him getting hired at The White House is only -1500. This and numerous other items are presently posted, so check out the list of MyBookie entertainment props today and see what's on tap – chances are you'll be surprised and amused.